I, literally, couldn't sleep the last few weeks. Call me crazy, but I am just SO excited about all the awesome gift ideas and giveaways I got for all of you. Yesterday, I brought you one of my favorite gifts for girls from American Girl. Today, however, it's all about the little ones with Leapfrog's My Own Story Time Pad.
Kids are all about being like Mom and Dad, so why not give a gift that helps them build vocabulary while mirroring today's tablet. With My Own Story Time Pad, children can listen to stories, music, and even open email from Mom and Dad.
Personalized play, stories and activities on a tablet just for little learners! Children can watch fun animations and listen to stories, emails and music as they explore the world of Scout & Friends. Parents can personalize the story time pad with their child's name, favorites, customized "emails" from family and a music playlist. My Own Story Time Pad comes pre-loaded with 1 story, 1 email, and 3 songs, and holds up to 5 stories, 10 songs and 3 emails at a time.
Momma Findings:
You KNOW we had to try it out for you, right? How could we even THINK about including this in our 2011 Holiday Gift Guide without, first, testing it out and bringing you guys the skinny on it?
Click to Enlarge 
Well, y'all know us better than that. We took the Leapfrog My Story Time Pad for a stroll around the Mommma Findings household with my 4-yr-old and we found it to be VERRYYYYYY familiar. I kept thinking to myself this reminds me of a toy we once had.
I couldn't hold it in any longer and went STRAIGHT to the toy box to find it. After digging through the mountain we call our toy box, I found it's twin… well kind of. Do you recognize the smaller toy next to the Story Time Pad?
Yes, the My Own Story Time Pad resembles Leapfrog's Text & Learn quite a bit. Of course my little man has always called it his "blueberry," short for "blackberry." Both teach letters and let preschoolers send out "emails," but there is one distinct difference. Parents can personalize My Own Story Time Pad, whereas, you can't with the Text & Learn. Another difference? The size. The Story Time Pad is much larger to resemble a tablet, not a blackberry. I will say, however, that little hands can still hold and play with it quite easily.
I REALLY loved that you can switch between all the pals on the top. Want to play with Penny instead of Scout? Simply click her character. Preschoolers can even create a music playlist, as well as make music of their own.
Here's a tip if you're looking at My Story Time Pad for Christmas…. take it out of the box and personalize it with your child's name and preferences BEFORE you wrap it. That way, it's ready to play with as soon as the wrapping paper is torn off.
Momma Improvements:
While, we love this toy, there are a few things I thought I'd share.
1. The screen is black and white. Yeah, there is no color, which is a little disappointing in comparison to all the other toys my preschooler loves like iPad apps and the new Leapfrog LeapPad (review coming soon). If you can get past the color and graphics, it's a great toy for children while on-the-go or relaxing at home.
2. It takes 3AA batteries. I know that's not much, but if your child plays with it a lot, then you might want to stock up on batteries or simply purchase rechargeable batteries.
Buy It: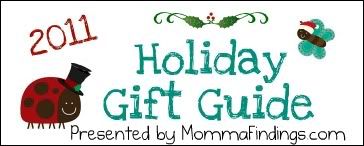 You can purchase the Leapfrog My Own Story Time Pad at stores like Walmart, Target, and Toys R Us, but if you're an online shopper, like myself, look for it on www.leapfrog.com or Amazon.com for the suggested retail price of $29.99. DEAL ALERT: Find My Own Story Time Pad on Amazon for $23.99 and it's elgible for free super saver shipping!
Oh! I am SO excited about this… Momma Findings will be featured on the Leapfrog Website in December, bringing you LOTS of Holiday Tips! Stay tuned!
Win It!
One lucky Momma Findings reader will win a My Own Story Time Pad, just in time for the Holidays!!!
How to Enter:
<a href="http://rafl.es/enable-js">You need javascript enabled to see this giveaway</a>.

Disclosure: This post made possible by Leapfrog and representing PR agency, who provided me with a sample product to facilitate this post. Opinions, stated, are always my own and never wavered by products received nor compensated unless, otherwise, stated. I'm an Amazon Affiliated Site. If purchase is made through links, found here, small compensation will incur.
Sara Patterson has been blogging since 2007, but took a break for a couple years to tackle the world of news. She was the Social Media Director for a Houston based market 10 news station for over 2 years, but decided it was time to go back to her roots as a parenting blogger so she can spend more time with her family. She has now become an independent social media consultant for a variety of clients such as Hunger Free Texans and Downtown Galveston. Follow her personal Twitter account
@SocialNewsSara,
blogging account
@Family_Appeal
.
Latest posts by Sara Patterson (see all)