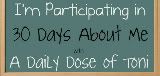 Yesterday, I completely skipped Day 16 of 30 Days About Me. I didn't do it on purpose. In fact, I was up earlier. I STARTED the blog post, but couldn't come up with ANYTHING to answer the question, "What's something crazy you've done and who do you do crazy things with?"
I'm totally not a prude. I've done crazy stuff, but it's not blog friendly and to be honest? These are things I'm not real proud of. So, my apologies for skipping yesterday, but I'm back today and we're talking about things that make us insecure and things we're proud of. I can SO do this one!
What I'm Insecure About:
If you asked me this two years ago, I'd have a REALLY hard time talking about it. I mean, I'm insecure about a few things, but never vulnerable enough to talk about 'em. Today, however, I'm a completely transformed person and understand that being vulnerable means being connected… with everyone around you, everyone who talks to you, and everyone who loves you.
So, my insecurity stems from my body image. This is going to sound harsh, but I hate the way I look. I hate the way my body has "settled" after having kids. I hate how my clothes fit me.
Here's the kicker. I've never been shy about hard work. I'm willing to put forth the time and effort at the gym or running outside at the track. I can to do that, but three kids, a husband, and being a full time blogger? It leaves me VERY little time.
That's my excuse anyway.
I'm insecure about how others view me…. and that's the worst selfish typical yet understandable insecurity anyone can have…… their looks.
What I'm proud of:
This list goes on FOREVER, but I picked a few of my favorites…
I'm proud of being a Christian.
I'm proud to lean on Him.
I'm proud to worship Him.
I'm proud to shout that He's MY God. 
I'm proud that He chose the perfect husband for me, before I was a gleam in His eye.
I'm proud He chose me to be my children's mother.
I'm proud to be in His grace, His mercy, and His love.
I'm proud to be His child.
I'm proud to accept the blessings He's poured out on me.
I'm proud to give.
I'm proud to love.
I'm proud to be me.
My pride overflows and I could type forever on all I'm proud of. One thing that I want to say is how proud I am to be in this blogging space. It's given me opportunities I could have NEVER dreamed for myself. It's given me the ability to add to our income, support my community, share with my children, and learn so much about Social Media, PR, and Marketing while honing my writing skills both personally and professionally.
I'm proud to be a professional blogger.

Sara Patterson has been blogging since 2007, but took a break for a couple years to tackle the world of news. She was the Social Media Director for a Houston based market 10 news station for over 2 years, but decided it was time to go back to her roots as a parenting blogger so she can spend more time with her family. She has now become an independent social media consultant for a variety of clients such as Hunger Free Texans and Downtown Galveston. Follow her personal Twitter account
@SocialNewsSara,
blogging account
@Family_Appeal
.
Latest posts by Sara Patterson (see all)