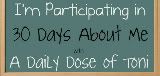 It sounds so silly, but when I agreed to participate in this 30 Days About Me series with Toni, I never thought I'd get so emotional over simple questions like, My Favorite Movie or My Favorite Song. Heck, the day I wrote about someone or something that has made an impact on me, I was a big ball of emotions.
Today, we're asked to describe or show a picture of our dream home. When I was young, I had a clear cut mental picture… a dollhouse-like home, with an intricate frame and a huge porch where I can swing back and forth on the porch swing with a tall glass of tea and watch my sweet children laugh as they run in the front yard, but after living in a variety of different houses over the years, I've learned that my dream house has nothing to do with big porches or gleaming kitchens. It's what you don't see that make my dreams come true.

What would my dream house be like?
It will be full of happiness
There would be no yelling inside
No heartbreak
No hurtful words
No hitting
Full of food
Full of friends
Welcoming
Warm
Loving
My dream home is a place I call home, for just a moment. It's where I love and show love. It's memories I'm making with my husband and children. It's my sanctuary when I'm sad. It's my security from the storm.
My dream home is where God places me and grows me. It's where He prepares my heart and my soul for a home that far surpasses my dreams here on earth.
Heaven.

Sara Patterson has been blogging since 2007, but took a break for a couple years to tackle the world of news. She was the Social Media Director for a Houston based market 10 news station for over 2 years, but decided it was time to go back to her roots as a parenting blogger so she can spend more time with her family. She has now become an independent social media consultant for a variety of clients such as Hunger Free Texans and Downtown Galveston. Follow her personal Twitter account
@SocialNewsSara,
blogging account
@Family_Appeal
.
Latest posts by Sara Patterson (see all)