Today has been a whirlwind of craziness that I haven't had time to blog. Shocking. I know. This time each day I have at LEAST 2 posts up and look at me dragging my feet on day 9 of the 30 Days About Me Series. Shame on me!
Today, we're asked to name something that makes our life easier. Today? Its the wrong day to ask me that because I'm ALL kinds of stressed with everything going on. My Dyson vacuum
decided to quit on me. Target decided to charge me TWICE for the $250 I just spent on my kids Back-To-School clothes, bringing my total to over $500 bucks, and my husband's truck is on the brink of becoming scrap metal if it keeps breaking down. So, in all that chaos, what makes my life easier?

You've probably already guess that my iPhone4 is one of my best friends. In fact, she may very well be numbero uno on that list of sweet friends. This iPhone4 has been the biggest lifesaver EVER.
It keeps my kids busy as we wait at the Pediatricians.
It keeps me from getting lost when I'm driving.
It keeps me in constant communication with Text, IM, Twitter, Facebook, and email.
It gives me my bank statement.
It wakes me up in the morning.
It's a gaming console.
It keeps me organized.
It streams music from Pandora or my playlists.
It keeps track of how far I run.
It's a food journal.
It's a note taker.
It my camera man.
It shares my pictures across a spectrum of platforms online.
It gives me the weather. 
Oh and it does some occasional calling too.
This is the ONE thing I don't think I could go without. It completes me.
No really.
It does.
If only I could get it's cousin Bubba iPad to come live with us.
What's one thing that makes life easier for you?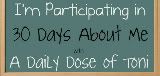 Sara Patterson has been blogging since 2007, but took a break for a couple years to tackle the world of news. She was the Social Media Director for a Houston based market 10 news station for over 2 years, but decided it was time to go back to her roots as a parenting blogger so she can spend more time with her family. She has now become an independent social media consultant for a variety of clients such as Hunger Free Texans and Downtown Galveston. Follow her personal Twitter account
@SocialNewsSara,
blogging account
@Family_Appeal
.
Latest posts by Sara Patterson (see all)