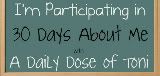 Now that's a strong word. Isn't it? When my child tells me, "I can't eat those carrots Mom. I hate them!" … let's just say I cringe at hearing such horrible words out of such sweet mouths.
With that said, I, often times, say that word. I hate when I hit traffic. I hate when I get bad service at restaurants. I hate when I run late. I hate when OTHER people make me run late (seriously, I will throw you out the window of a moving car if you ever make me late. Don't do it). I hate when it's bright and sunny outside and it's RAINING. Seriously. I think it's disgusting…. WAY disgusting, but there's two things I hate more than anything…..

Call me what you will, but grown women wearing hair bows or a ribbon tied around their pony tail.
I mean, it's cute when you're a toddler. Heck, it's even adorable as a preschooler. Girls may even wear them through Elementary. My daughter loathes hair bows. Don't ask me why. It probably has something to do with me making her wear them the first four years of her life.
I was THAT kind of mother.
Cheerleaders through High School and College? It's ok, but hair bows and ribbons on grown women just isn't right. Gah. I hate it. It makes them look like an over sized 5th grader who failed for the 20th time.
Okay. Now you all know that "hate" really was a ploy for a laugh, but the one other thing I mentioned I hate has nothing to do with laughing or hair bows.
I hate letting go.
I hate change.
I hate losing someone you love.
I hate crying.
I hate that I'm losing one of my best friends.
There. That's all you get from me today.

Sara Patterson has been blogging since 2007, but took a break for a couple years to tackle the world of news. She was the Social Media Director for a Houston based market 10 news station for over 2 years, but decided it was time to go back to her roots as a parenting blogger so she can spend more time with her family. She has now become an independent social media consultant for a variety of clients such as Hunger Free Texans and Downtown Galveston. Follow her personal Twitter account
@SocialNewsSara,
blogging account
@Family_Appeal
.
Latest posts by Sara Patterson (see all)