It's quiet here. My three kids sleep peacefully after a very long day of swimming and and hanging out with their cousins. It's hot here. Like, not Houston Humidity Hot (because you KNOW that's the worst kind), but dry-in-your-face-hot. Yesterday, it seems as if I couldn't get enough water, yet I drank about a million bottles.
I complain about the heat, but I'm having a really great time here at the LPH Homestead. This is my In-Laws's place out in the country "Little Piece of Heaven" and as I sit here watching the sun come up (and the deer run through the backyard – don't be jealous) while everyone in the house sleeps, I think to myself I love my husband and feel so blessed he has given me such blessings. Today, 30 Days About Me asks, "What's your most treasured item you own?"

I'll admit, most women when asked this question, will say their most treasured item is their Wedding Ring. I'm among those women, not because I have a really expensive gigando rock on my finger, but because this ring has signified so much…. SO MUCH.
I've cried over it.
I've laughed over it.
I've thrown it in anger.
I've lost it in worry.
I've become one with this ring.
The thing is, and you're going to roll your eyes again because I've said it so much, I really thought my marriage wasn't going to make it. Three years ago I held this ring in my hand, cried my eyes out, and asked, "God, tell me what to do. I love this man, but I don't think he loves me back. I love these children, but I don't think he loves them too. How do I move forward? Show me how to do this."
Well, He answered…. and He answered BIG time because over the next few years, we left all we had back in TN, moved our family back to TX, and this is the happiest I've been in a long time. In fact, if you know MY God, you know He answers prayers in a big way. All seems to sit so perfectly in my marriage, my kids, my home, my job.
To think.. His plan was wrapped around this ring before I even knew Him. So, yes, I hold tightly to this little piece of jewelry in a big way.
What's your most treasured item you own?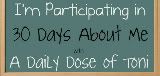 Sara Patterson has been blogging since 2007, but took a break for a couple years to tackle the world of news. She was the Social Media Director for a Houston based market 10 news station for over 2 years, but decided it was time to go back to her roots as a parenting blogger so she can spend more time with her family. She has now become an independent social media consultant for a variety of clients such as Hunger Free Texans and Downtown Galveston. Follow her personal Twitter account
@SocialNewsSara,
blogging account
@Family_Appeal
.
Latest posts by Sara Patterson (see all)