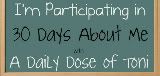 It's Day 5 of 30 Days About Me and guess what? I'm totally hanging out at one of my favorite spots in Texas, the LPH Homestead. My In-Laws have a beautiful place near Waco with a fishing pond to and a sparkling pool to hang out and splash. The best part? I feel the stress lifted off and I can just chill.
With that said I don't have a lot of time to post my 30 Days About Me, but lucky for me… it's all about my favorite quote and everyone KNOWS my favorite quote, right?
"Beloved, let this one sink in deeply: if God allowed you to be thrown into a pit, you weren't picked ON, you were picked OUT. God entrusted that suffering to you because He has Faith in you. Live up to it. All the way up." -Beth Moore
Just a few words when you feel stuck, when you feel you're in a dark spot.

Sara Patterson has been blogging since 2007, but took a break for a couple years to tackle the world of news. She was the Social Media Director for a Houston based market 10 news station for over 2 years, but decided it was time to go back to her roots as a parenting blogger so she can spend more time with her family. She has now become an independent social media consultant for a variety of clients such as Hunger Free Texans and Downtown Galveston. Follow her personal Twitter account
@SocialNewsSara,
blogging account
@Family_Appeal
.
Latest posts by Sara Patterson (see all)