You guys are going to REALLY hate me. I'm, seriously, not against TV, but I just don't watch it a lot. So much so, that we, completely, shut off our cable about 8 months ago and solely rely on Netflix, Redbox, Hulu, and Roku. We just don't watch TV a lot in the house. While I enjoy myself some good CNN, it just wasn't worth the cost to us, as a family of five on a budget.
With that said, there is a show, I'm just LOVIN'. I discovered it, for the first time, by a blogging friend by the name of Jennifer from Mami2Mommy. She and I roomed together at a Social Media Conference in LA back in April and she was watching it on her down time. The Army Wives addiction began and it didn't end for me until the last episode of Season 4 that I happily made my husband watch with me on Netflix.
Another favorite of mine, which you'll soon call me a dork for watching, is Make It or Break It. Oh, how I love me some teenage drama and throw in some kick butt gymnastics and I'm totally sold. Like totally.
If we're going to look at past TV shows that I love I'll have to say my undying love for Michael Scofield and Lincoln Burrows in Prison Break. Jack Bauer in 24 comes in close too. Who doesn't love a handsome hero?
If it was up to my 4-yr-old? He'd make me watch SpongeBob all day!
What's YOUR favorite TV show?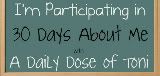 Sara Patterson has been blogging since 2007, but took a break for a couple years to tackle the world of news. She was the Social Media Director for a Houston based market 10 news station for over 2 years, but decided it was time to go back to her roots as a parenting blogger so she can spend more time with her family. She has now become an independent social media consultant for a variety of clients such as Hunger Free Texans and Downtown Galveston. Follow her personal Twitter account
@SocialNewsSara,
blogging account
@Family_Appeal
.
Latest posts by Sara Patterson (see all)