You know? I'm kinda liking this 30 days about me. I mean, don't get me wrong, I love writing about products, events, and parenting, but it makes me happy to write about… welll…. me.
Today is Day 2 in the blog series all about me. Toni, from A Daily Dose of Toni, was kind enough to create a list of prompts each day for us to follow and I'm SO grateful for that because if someone told me, "Sara, you're gonna write about you for 30 days." I'd have NO idea what to say. Today is kinda of simple What's your favorite movie
Sara?

I don't have to even think about this one, My Best Friend's Wedding
. This has been my favorite movie since I was a sophomore in High School. Yes. Seriously. It debuted in 1997 as a romantic film and I fell in love with the storyline WAY before I even knew what romance or love was.
Wanna know why?
Well, I'll be honest (I mean, everyone knows how my story ended. I fell in love with my now husband and we're overly happy BUT…) I had.. have.. a best friend. His name is Kevin. He's been my best friend since my freshman year in high school. He's seen me through
boyfriends.
graduation.
job loss.
heartbreak.
moves.
financial loss.
marriage.
babies.
funerals.
We're kinda like…… ALWAYS going to be friends, but this movie was always OUR movie. We never dated. We didn't love like that, yet he's always been the closest person to me before I met my husband (and truth be told during some periods of my marriage where I felt alone being 900 miles from Texas and facing my marriage falling into crumbles).
He's the one man that I've always had a tender spot for and I always knew that when he met the perfect girl for him, I'd be happy, yet sad and jealous at the same time.
Yeah. I'm a loser like that.
While my story has a happy ending and his will too (he's met someone that sounds perfect that I haven't met yet), this movie is STILL my favorite movie and always will be……. next to Hope Floats
. Darn you Harry Connick Jr.
I can't pick just ONE scene that's my favorite, but when they dance together on the boat, with him singing The Way You Look Tonight
… well, it makes my heart flutter. I DID say that yesterday when I mentioned my favorite song, remember? I told you'd they'd tie in together.
Another scene that I absolutely LOVE is the Baseball Park scene. I have every word memorized. Don't call me a loser. "Michael, you unwittingly imply that I'm clumsy."
So, what's YOUR favorite movie of all time? Is there a story behind why you love it?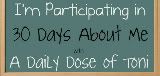 Sara Patterson has been blogging since 2007, but took a break for a couple years to tackle the world of news. She was the Social Media Director for a Houston based market 10 news station for over 2 years, but decided it was time to go back to her roots as a parenting blogger so she can spend more time with her family. She has now become an independent social media consultant for a variety of clients such as Hunger Free Texans and Downtown Galveston. Follow her personal Twitter account
@SocialNewsSara,
blogging account
@Family_Appeal
.
Latest posts by Sara Patterson (see all)