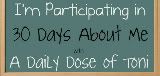 Welcome to a new series this month called "30 Days About Me". I'm lucky enough to be jumping on the bandwagon with my sweet blogging friend Toni hosting the whole thing. What does that mean exactly? Well, she did the hard work, I'm simply answering the questions and participating. So, thank you Toni! This is a great way for me to reveal a side of me you may not have known and basically have you guys learn about the real me, the real person behind the blog. You guys DO know I'm real, right?

 I had to laugh at this prompt, just as Toni did, because I can't pick just ONE favorite song. There are so many that I've loved because of a certain situation I was in when I first hear it or it brings back sweet memories. Plus, I listen to SUCH a hodgepodge of music that listing my favorite songs would, literally, take hours upon hours and run across a huge spectrum of genres. SO. What I decided to do instead is let you in on two songs I love from two of my favorite movies. That's tomorrow's question so I wanted to relate the two.
The Way You Look Tonight
Now, I'm LOVIN'
Michael Buble
singing this, but you just can't beat
Frank Sinatra
. Oh love.
To Make You Feel My Love
Again,
Garth Brooks
just makes my heart flutter, but
Adele
sings this song SO beautifully.
Again, I really want to thank Toni for putting this series together. If you'd like to participate in 30 Days About Me, it's not too late! Head over to her site, find the prompts for each day, and start writing. Then head back and link up with her each day.

Sara Patterson has been blogging since 2007, but took a break for a couple years to tackle the world of news. She was the Social Media Director for a Houston based market 10 news station for over 2 years, but decided it was time to go back to her roots as a parenting blogger so she can spend more time with her family. She has now become an independent social media consultant for a variety of clients such as Hunger Free Texans and Downtown Galveston. Follow her personal Twitter account
@SocialNewsSara,
blogging account
@Family_Appeal
.
Latest posts by Sara Patterson (see all)