Did you know that 58% of U.S. Moms say they skip breakfast regularly? Some of them do it because they just don't have enough time to prepare or even EAT it. Does that prove to be true in your household?
I'm lucky that my children go to a school that provides a free healthy breakfast for kids in the classroom to everyone. Yes. EVERYONE, no matter what their income status. Truth be told, if you have the means to provide a healthy breakfast or not, more often than not this is the most skipped meal in the day. Time is not on our side when getting ready for school and preparing for the day. So, what's the solution? I've, recently, found a really quick and easy meal for my kids that includes thick cut oatmeal, real chunks of fruit with nutritional value, thanks to Seneca Farms.

About Seneca Farms Oatmeal & Fruit:
Seneca Farms Otameal & Fruit is the newest addition to the Seneca Farms line of healthy "good for you" products. It comes in 6oz microwaveable cups for ease of preparation. No water, milk or other liquid needs to be added. Just heat in the microwave for 45 seconds for a warm, nutritious, delicious, and satisfying breakfast or snack.
Momma Findings:
We had the chance to try to of the flavors debuted in the NEW line of Seneca Farms Oatmeal & Fruit. We received Apple Cinnamon and Vanilla Peach.
I need to say that whoever thought of this Microwavable Oatmeal idea is genius! I mean, think about the fruit cups your children love. They're easy to serve and very convenient. Think about microwavable soups that you, might often, make for lunch. Again, very easy to make and healthier than stopping at your local fast food joint.
My point is Seneca Farms has the answer to serving nutritional and easy-to-serve breakfasts for the family. Not only that, but it can EASILY be an after school snack after a long school day.
What I really enjoyed about the oatmeal is that there is no need for milk or other liquids, requiring no extra prep. You, literally pop it in the microwave for 45 seconds, stir, and eat. The oatmeal is also really thick cut, which I happen to enjoy with chunks of fruit. The best part? It's 0% trans fat and cholesterol making it a healthy option for both kids and adults alike.
Momma Improvements:
While we love that there is an abundance of fruit chunks and flavoring, my 4-yr-old was not at all happy when he ate the Apple Cinnamon variety, stating, "I don't like just apples." It was his way of stating there needed to be more cinnamon. At least that's what I'm guessing because I happen to love it.
Be aware that, with young children, they might be apprehensive of the texture of this thick cut oatmeal. My son is used to lighter versions and took a few tries to get used to it.
Final Findings:
Seneca Farms has introduced a great healthy breakfast that works wonders for my family. It's easy to make, quick to prepare, and nutritional to boot!
Buy It:
Seneca Farms Oatmeal & Fruit can be found at Walmart stores nationally and a wide variety of retail grocery stores for the suggested retail price of $2.49 – $2.89 for a two pack size. A more detailed list can be found at www.seneca-farms.com. DEAL ALERT: Head over to the Seneca Farms Facebook Page to print your .55 off coupon.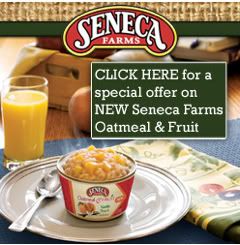 Tell me Moms, what is your go-to easy breakfast?

Disclosure: This post made possible by Seneca Farms and representing PR agency, who provided me with a sample product to facilitate this review. Opinions, stated, are always my own and never wavered by products received nor compensated unless, otherwise, stated.
Sara Patterson has been blogging since 2007, but took a break for a couple years to tackle the world of news. She was the Social Media Director for a Houston based market 10 news station for over 2 years, but decided it was time to go back to her roots as a parenting blogger so she can spend more time with her family. She has now become an independent social media consultant for a variety of clients such as Hunger Free Texans and Downtown Galveston. Follow her personal Twitter account
@SocialNewsSara,
blogging account
@Family_Appeal
.
Latest posts by Sara Patterson (see all)