My husband works shift work, so it's really difficult for us to have dinner together frequently. We do, however, eat together at the table when he is not at work. Yes, it's hard to round everyone up. Yes, it's exhausting to spend hours cooking only for my picky 3-yr-old to refuse to eat, but I do it. I do it because, for me, family time is important. I want family dinner time to be a time of rejoice, relaxation, and become a comfort my children look forward to at the end of the day.
This week, I was looking forward to uniting with Houston Bloggers and Hannah Keeley to gain insight on ways families can get back to the table for meaningful meals. Circumstances kept me from attending the event, however, it has not discouraged me from helping in this charitable initiative. Do you find it hard to get back to the table? Well, Libby's has teamed up with Feeding America, the nation's largest domestic hunger-relief organization, to help families, just like yours, get back to the table while helping America's hungry. I'm also joining in by participating in Libby's Virtual Canned Food Drive.

About Libby's Virtual Canned Food Drive:
Libby's Fruits & Vegetables is officially kicking off the second year of their Feeding America Virtual Canned Food Drive. This online food drive encourages families and friends to form teams and engage their communities to support them. Teams that raise $1,500 or more for Feeding America will get their pantries stocked with a year's supply of canned vegetables from Libby's. Libby's Fruits & Vegetables will match up to $40,000 of donations raised between now and December 13th, 2010, which will help provide 525,000 meals for families in need! As a thank you, Libby's will give every person who contributes to the Virtual Canned Food Drive a coupon for 50 cents off two cans of Libby's Vegetables.
How You Can Help: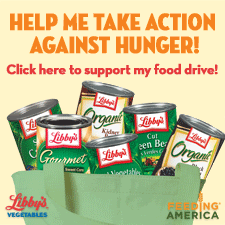 There are different ways you can help Libby's raise money and feed the America's hungry.
Donate to my drive: Can you spare a small donation to my virtual food drive? Just $5.00 will provide 35 meals for hungry families. My goal is to raise $150, but I'd LOVE to supersede that and raise $1,500! Can you imagine how many families will be fed? To donate to my drive, simply click here. 
Start Your Own Drive: Want to do more than just give $5 bucks to my virtual drive? Start your own virtual food drive, customize your page, get your family involved, and make a difference. Hey, if you raise $1,500 or more Libby's will give YOU a year's supply of canned fruits and vegetables. 
Spread the Word: Can't spare a donation? Too busy to start your own drive? You can still help, by doing what you probably do every day anyway, TWEET. Yes, I'd love if you can tweet something like Help Families Get Back to the Table w/ @Sarann & @LibbysTable (link) #libbysgiving
Encourage Houston Bloggers: As I mentioned above, I was unable to attend Libby's Luncheon due to last minute circumstances, however, the bloggers who DID attend did an amazing job at stocking bags to give to the Houston Charity Agency. It would be great if you could encourage these ladies in their Virtual Food Drives. They include: Crystal from Simply Being Mommy, Rachel from Following In My Shoes, Shannon from Potamus Prefers, and Jamie from Love To Shop Mom. 
Win a Libby's Prize Pack:
I love contributing to charitable initiatives and, second to that, I love giving back to all of you awesome readers. Yeah, I'm talking to you. So, through my partnership with Libby's Get Back to the Table, I'm giving one lucky Momma Findings reader a Libby's Prize Pack with the following:
Reusable Libby's grocery tote
Libby's product,
State of the art can-opener
Copy of Hannah Keeley's book, Total Mom Makeover!
How to Enter:
Required Entry:
I'm looking for awesome tips to get families back to the table for meaningful meals. How do you do it? Tell me in the comment section.
Extra Entry Options:
TEN EXTRA ENTRIES if you blog your answer to the above question and spread the word about Libby's Virtual Food Drive. Please link to this post and my Virtual Food Drive Donation Page.
FIVE EXTRA ENTRIES by following both myself AND Libby's Table on Twitter. Then, tweeting about this giveaway. You must have at least 75 followers to be eligible for these entries. A great Tweet would be: Help Families Get Back to the Table w/ @Sarann & @LibbysTable – Enter to win a Libby's Prize Pack (link) #libbysgiving
TWO EXTRA ENTRIES if you "like" Momma Findings and Libby's Table on Facebook. Go ahead and comment once you get there! We love wall comments!
ONE EXTRA ENTRY becoming an email subscriber. Form on the right side.
ONE EXTRA ENTRY becoming a Facebook Networked Blog follower.
ONE EXTRA ENTRY follow us on Google Friends.
Contest starts today September 23rd – October 1st 11:59 CST and open to US residents only. Leave each entry in separate comments. You don't have to be a blogger to enter, but please leave a valid email address for contact purposes.
***CONTEST HAS NOW ENDED*** Congrats to our winner Shannon who said, "Having the meal at a set time no matter what, and make sure everyone one knows and accepts that you either eat then or you have to deal with what's left, which in big families isn't much." Please check your inbox on how to claim your prize.
This post made possible by Libby's Table, who provided the above giveaway package. Libby's does not represent or warrant the accuracy of any statements or product claims made here, nor does it endorse any opinions expressed within this blog site. Although opinions stated are, solely, my own, I was compensated for my participation in the initiative.
Sara Patterson has been blogging since 2007, but took a break for a couple years to tackle the world of news. She was the Social Media Director for a Houston based market 10 news station for over 2 years, but decided it was time to go back to her roots as a parenting blogger so she can spend more time with her family. She has now become an independent social media consultant for a variety of clients such as Hunger Free Texans and Downtown Galveston. Follow her personal Twitter account
@SocialNewsSara,
blogging account
@Family_Appeal
.
Latest posts by Sara Patterson (see all)