I was, recently, at a Blogger Event for Naturalizer Shoes (more to come on that REALLY soon! So, stay tuned!) and made SURE to bring my camera. My head has, literally, been off balance lately, and I didn't realize I needed room on my SD card until I arrived. The wonderful Photographer there offered to send me pictures he took of me and my blogging friends, so I was ecstatic. Until he said, "Do you have a business card with your email?"
Gah! Of course I have business cards. Every serious blogger carries business cards. They are usually stocked perfectly in my purse, but I was a little embarrassed because these business cards were made back in 2009. They have this really cheesy design (why did I think it was cool back then?) and boasts both Momma Findngs information AND my OLD blog url. They're simply outdated. I decided, right then and there, that I needed to order new blogger cards, business cards I can be proud of and UPrinting was my first stop.
UPrinting.com is a leading online printing company that provides high quality printing at the most affordable prices. For over 25 years, UPrinting has been a trusted leader in online printing, featuring its signature easy-to-use website and the famous Free File Review, a complimentary proofing service which requires no upfront payment. UPrinting offers convenient marketing support services such as design, lists, and direct mailing to help grow small and medium-size businesses nationwide.
What Does UPrinting Offer?
While looking through the designs, I realized I can order so much more such as:
Brochures
Business Cards
Calendars
Envelopes
Folded Cards
Labels / Stickers
Letterhead
Postcards
Wall Graphics
Window Clings
and More!
Win It!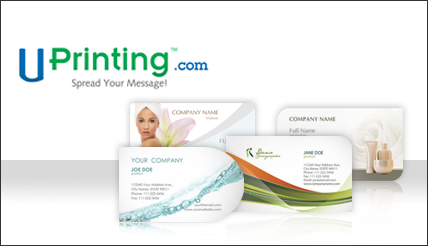 One lucky Momma Findings winner will receive, 250 Die Cut Business Cards. Options include:
Size: 2 x 3.5", 2 x 2" (square card) or 1.75 x 3.5" (slim card)
Die cutting options available: Rounded Corners, Leaf, Rounded One-Corner, Half-Circle Side, Circle
Paper Type: 14pt Cardstock Gloss, Matte, or High Gloss; 13pt Cardstock Uncoated
Color: 4Color Front, Blank Back; 4Color Front, Black Back; 4Color Both Sides
How to Enter:
Required Entry:
Take a look at all the UPrinting options at www.uprinting.com. Come back here and tell me what you need the most and why. Just let me know in the comment section. Easy peasy!
Extra Entry Options:
FIVE EXTRA ENTRIES if you blog about your current business cards and how long you've had them. Has it been longer than me? Probably not. Please link to this post and UPrinting.
THREE EXTRA ENTRIES by following both myself AND UPrinting on Twitter. Then, tweeting about this giveaway. You must have at least 75 followers to be eligible for these entries. A great Tweet would be: Are your business cards outdated? Enter to win 250 die cut cards from @Uprinting w/ @Sarann at MommaFindings. (link)
TWO EXTRA ENTRIES if you "like" Momma Findings and UPrinting on Facebook. Go ahead and comment once you get there! We love wall comments!
ONE EXTRA ENTRY becoming an email subscriber. Form on the right side.
ONE EXTRA ENTRY becoming a Facebook Networked Blog follower.
ONE EXTRA ENTRY follow us on Google Friends.
Contest starts today September 23rd – October 7th 11:59 CST and open to US residents 18 and over only. Leave each entry in separate comments. You don't have to be a blogger to enter, but please leave a valid email address for contact purposes.
***CONTEST HAS NOW ENDED** Congrats to Chisum's Crew with the comment, "I need the business cards the most for our Undy 5000 team. They would be a great help in getting the word out that we're running to raise awareness and money for a cure for colon cancer in daddy's honor." Please check your inbox on how to claim your prize.
This post made possible by Uprinting, who provided 250 Die Cut Cards for both myself and one of my readers. UPrinting does not represent or warrant the accuracy of any statements or product claims made here, nor does it endorse any opinions expressed within this blog site. Opinions stated are, solely, my own and not wavered or compensated in any other way unless, otherwise, stated.
Sara Patterson has been blogging since 2007, but took a break for a couple years to tackle the world of news. She was the Social Media Director for a Houston based market 10 news station for over 2 years, but decided it was time to go back to her roots as a parenting blogger so she can spend more time with her family. She has now become an independent social media consultant for a variety of clients such as Hunger Free Texans and Downtown Galveston. Follow her personal Twitter account
@SocialNewsSara,
blogging account
@Family_Appeal
.
Latest posts by Sara Patterson (see all)