There is something downright sweet about children and their relationship with their Grandparents. People keep telling me that Grandchildren are the reward AFTER you've raised and released YOUR children, so I count down the days and pray for my future Grandchildren every day. I think about what they will look like, how many I will have, how I'll spoil them rotten, feed them lots of candy, then send them home to their parents. Hey! Don't judge! I get sweet infested children back every Saturday, so yes…. I plan to keep a "snack box" for them that could put a lion in a sugar induced coma. (Just kidding… kind of).
But as I think about how much I already love them, I also wonder What will they call me when I'm a Grandmother?

What do your children call their Grandparents? We've got a sweet list:
It's really sweet how my children came up with the names for their Grandparents. For instance, they call my husband's Mom, Ganee. This is derived from Granny. The funny thing is, her other Grandchildren called her Gamma, but this didn't affect what my children felt would be best. Speaking of Ganee, here she is with that famous cow :
Now Papaw was kind of passed down to my kids from their cousins and they didn't feel it needed any Tweaking, along with Grandma. Those just fit, however, it melts my heart that my children call my Dad Papi. Why you ask? Because that's what I call him. They heard me call him Papi and seriously thought that was his name. So, Papi it was and Papi it will be. Check him out with my 2-year-old:
I found Baby Center's Top 10 Most Popular Names for Grandparents quite interesting because we have a few that are on it, but two unique names who my children have created all their own.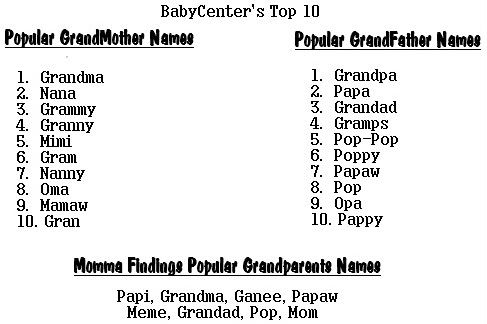 So? What do your children call their grandparents? I'm a bit intrigued on what other children have come up with.
Sara Patterson has been blogging since 2007, but took a break for a couple years to tackle the world of news. She was the Social Media Director for a Houston based market 10 news station for over 2 years, but decided it was time to go back to her roots as a parenting blogger so she can spend more time with her family. She has now become an independent social media consultant for a variety of clients such as Hunger Free Texans and Downtown Galveston. Follow her personal Twitter account
@SocialNewsSara,
blogging account
@Family_Appeal
.
Latest posts by Sara Patterson (see all)