With the Holidays long gone, you might have made the commitment to eat healthier. I, personally, have indulged since Thanksgiving, so January is a month of watching my portions, running 3 times a week, drinking more water (that's a hard one for me), and including my children in the fitness routine. We, as parents, lead as example and I need them to see Momma is doing her part to keep our family healthy.
What foods do you like to eat when you're dieting or trying to eat healthy? I have a few: Bananas with Peanut Butter, Almonds & String Cheese, & Healthy Choice Entrees. With those favorites in mind, I sometimes feel like I'm missing out. Lucky for me Corner Bakery has debuted their 100 Under 600 Menu!

About the 100 Under 600 Menu:
Corner Bakery Cafe is introducing its "100 Under 600" program showcasing over 100 different soup, salad and sandwich combos under 600 calories. According to experts, up to 97 percent of people will break their resolutions before year's end. Corner Bakery Cafe is known for its extensive selection of prepared-to-order Corner Combos offered year round, and knowing it can be difficult to keep New Year's resolutions, Corner Bakery Cafe's "100 Under 600" program was introduced to make calorie-conscience eating easier while still enjoying a wide variety of tasty options .
Ideas to Keep Your Healthy Resolution:
– Involve the family: I've included my children (ages 7 and under) in a Fitness Day twice a week. We head to the back yard in our workout clothes, stretch together, do lunges and sprints across the grass, play games, practice our kickboxing moves, and do Yoga Poses. We all have fun and stay fit all at the same time.
– Get to Bed: I don't know about you, but I tend to snack late at night when I'm bored. The kids are in bed. The chaos has died down and I feel like I NEED a snack. Heading to bed at a decent hour gives you the energy and rest for the next day AND keeps you from late night snacking.
– Drink Water: I hate drinking water. In fact, I think I passed that down to my children, however, when I'm really hungry I chug it down. It keeps me full and hydrates me (even when I feel like I don't need it).
– Stretch: I'm a Momma of 3 and working out sometimes just doesn't fit in our busy schedule. When 7:00 hits and I realize I didn't get a jog in or do Pilates on the Wii… I simply stretch. It loosens my body, relaxes me, and gets me ready for the next time I exercise (not to mention helps my sore muscles).
– Watch what you eat: I didn't make a resolution to "diet", but instead vowed to watch what I eat. I'm not munching on snack cakes, but instead reaching for almonds (which are just as tasty and healthier) or string cheese. For meal options, Corner Bakery has you covers with over 100 options that are under 600 calories (calorie count not included with side items)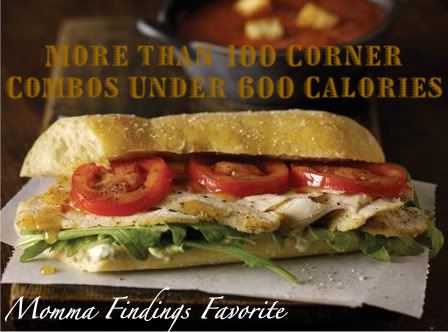 Momma Findings Experience:
During the Holidays, I had the privilege to host a catered Corner Bakery party. We tried out all their yummy foods for the Holidays like: An array of Sandwiches, Baked Goodies, Pasta, and Veggies. They were a hit with the family. Check it out:
They have the COOLEST Delivery Van
Our Whole Catered Package
Knowing just how tasty their menu is, I'm really excited to see the 100 Under 600 Menu help, Mommas like me, stay on our Healthy Track without "missing out".
Connect With Corner Bakery:
If you follow @CornerBakery on Twitter, every weekday through February 19, they will tweet questions twice daily, and the first five followers to answer via @reply will be mailed an offer for a free Corner Combo. What a great way to try their 100 Under 600 Menu options! Don't forget you can check out more updates and happenings on the Corner Bakery Cafe Facebook Fan Page!
Buy It
Corner Bakery menu options vary in price. Click here to find a Corner Bakery near you.
WIN IT!!
Thanks to Corner Bakery one lucky Momma Findings reader will win a $25.00 Corner Bakery Feed the Day gift card.
How to Enter:
Required Entry:
Check out the Corner Bakery 100 Under 600 Menu, then come back here and tell me what menu item you'd like to try! That's it! Our favorite is the Chicken Pesto on Ciabatta.
Extra Entry Options:
– 5 Extra Entries: Blog about the different ways you keep your New Year's resolution and this contest by linking to this post.
– Sign up to be an email subscriber right there on the right side
– Add the Momma Findings button to your blog sidebar
– Follow Momma Findings on Facebook Networked Blogs (scroll ALLL the way to the bottom of the blog for the link).
– Follow Momma Findings on Google Friends .
Contest starts today January 20th – January 29th Midnight Central Time and open to US residents only. Leave each entry in separate comments. You don't have to be a blogger to enter, but please leave a valid email address for contact purposes.
***CONTEST HAS NOW ENDED**
Congrats to Mona! Please check your inbox on how to claim your prize!
This post made possible by Corner Bakery and representing PR agency who included us in past campaigns providing a Corner Bakery Catered package and Gift Card. The opinion here is solely my own and has not been wavered or compensated by products received.
Sara Patterson has been blogging since 2007, but took a break for a couple years to tackle the world of news. She was the Social Media Director for a Houston based market 10 news station for over 2 years, but decided it was time to go back to her roots as a parenting blogger so she can spend more time with her family. She has now become an independent social media consultant for a variety of clients such as Hunger Free Texans and Downtown Galveston. Follow her personal Twitter account
@SocialNewsSara,
blogging account
@Family_Appeal
.
Latest posts by Sara Patterson (see all)