Being a Stay-at-Home Momma to three children ages 7 and under is a task all it's own. I find it incredibly rewarding, however, realized how my beauty routine has gone out the window since having kids.
I rarely go a day without putting on make-up. It makes me feel good about myself even IF my day is full of laundry, dishes, and Play-Doh. The other day, I looked down at my legs and thought to myself, I can't remember the last time I put on lotion or had a pedicure. My beauty routine is slowly leaving me and I've GOT to stop it. Nail salons aren't the most kid-friendly places. So, imagine my intrigue when I discovered Np2 Beauty.

About Np2 Beauty:
Np2 Nail Perfection is an innovative duo of durable, chip resistant, express top coat conveniently situated atop superior quality nail lacquer with remarkable, brilliant color and amazing wear. This fabulous combination of bottles can be separated and combined for ultimate convenience and versatility.
What We Liked: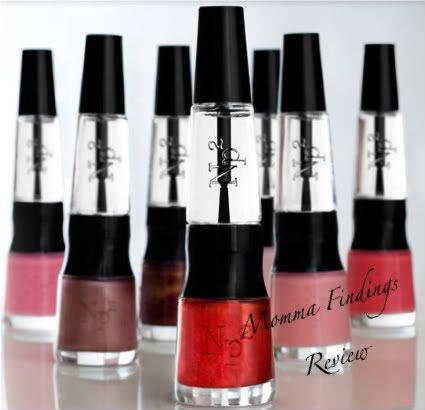 • Color Variety: Np2 comes in a variety of colors including the Hypothesis French duo, which is definitely my favorite. I love the way french manicures look.
• Usage: Each bottle has enough lacquer for 100 applications. For me, it's probably more because my nails are tiny tiny.
• Sleek Design: The design stacks both the color and fast drying polish into one, easy-to-carry bottle. They just snap together. You can even mix and match with other Np2 polishes.
• Upcoming Colors: Np2 is debuting lots of color variations through out the year. There's no reason to get bored with the colors you have with so many Np2 options.
• Application: The lacquer goes on so simple without dripping or smudging while applying. I was utterly surprised that I didn't have to re-apply because of streaks left.
• Shine: Even BEFORE you put that last layer of Np2 polish on, after the color, your nails are SO shiny.
• Smell: There is none! Seriously, I hate having to wait for the kids to be in bed before I put nail polish on. They don't like that "regular" harsh smell most polishes give out, but Np2 was awesome without harsh smells. The entire line of Np2 formulas are free of Toluene, Formaldehyde and DBP
Momma Improvements and Suggestions:
• Handle: When applying the color you have to get used to using a bigger barrel handle. It's wider compared to most nail polish applicators. This didn't cause a problem because the nail polish goes on so easily and smoothly, just felt different and will take a little getting used to.
All in all, I am in love with Np2 polishes. It's definitely helped me "revamp" my beauty routine all in time for Valentine's Day.
Buy It
Np2 Nail polishes retail for the suggested retail price of $22.50 at Np2beauty.com.
This post made possible by Np2 Beauty and representing PR agency who provided us with a sample of Np2 Nail Polish. The opinion written is solely my own and has not been wavered or compensated by the products I received.
Sara Patterson has been blogging since 2007, but took a break for a couple years to tackle the world of news. She was the Social Media Director for a Houston based market 10 news station for over 2 years, but decided it was time to go back to her roots as a parenting blogger so she can spend more time with her family. She has now become an independent social media consultant for a variety of clients such as Hunger Free Texans and Downtown Galveston. Follow her personal Twitter account
@SocialNewsSara,
blogging account
@Family_Appeal
.
Latest posts by Sara Patterson (see all)