The Consumer Electronics Show 2010 (or better known as CES) is happening, starting today January 7-10th in Las Vegas, NV. CES is the largest trade show held for consumer electronics and features products and the companies that create them.
This year, Kodak wants you to be a part of CES from your home computer. They invite me AND you to participate and see all the action at the show by watching live streaming panels direct from the Kodak K-Zone on the CES Floor. You can also join the discussion by submitting questions to the panelists via Twitter and using the hashtag #kzone.
Panel Descriptions, Times, and Info
The New CMO: Chief Memory Officer (Thursday, Jan. 7, at 11:00 p.m. PST)
A look at today's CMO's and how they create, share and relive moments in their lives. Speakers include: Tina Sharkey (Chairman and Global President, Baby Center), Jill Zarin (The Real Housewives of NYC), and Jen Drexler (Director of Brand Insights, Just Ask A Woman)
It's All About KISS (Thursday, Jan. 7 at 12:00 p.m. PST)
And we're not talking about the rock band. Hear from leading women in technology about why simpler is better in today's fast-paced world. Speakers include: Linda Tischler (Senior Writer, FastCompany), Tina Sharkey (Chairman and Global President, Baby Center), Pam Sherman (author and public speaker known as The Suburban Outlaw), and Jen Drexler (Director of Brand Insights, Just Ask a Woman)
The M-Suite (Friday, Jan. 8 at 3:00 p.m. PST)
*I'm REALLY looking forward to this one*
How momtreprenuers and stay at home moms are building successful businesses. Speakers include: Amanda Robinson (NaturalMommies.com), Sharon Napier (founder, Partners & Napier), Susan Tousi (Kodak), Soleil Moon Frye (actress), and Stacie Haight Connerty (blogger, Thedivinemissmommy.com)
Help, My Mom Friended Me on Facebook (Friday, Jan. 8 at 11:00 a.m. PST)
Kids eight and under will never know what life was like before Google. Learn how technology is changing their lives – and their parent's lives in the process. Speakers include: Pam Sherman (author and public speaker known as The Suburban Outlaw), Susan Getgood (Blogwithintegrity.com), Jill Zarin (the Real Housewives of NYC), Linda Sawyer (CEO of Deutch), Christy Matte (editor of the Family Computing Guide, About.com)
Father Knows Best (Friday, Jan 8 at 5:00 p.m. PST)
It's time to hear from the dads! Hear from these tech savvy dads on how they use technology with their kids, and the lessons learned. Speakers include: Michael Ferrara (TechnoDad), Jeff Hayzlett (CMO, Kodak), Fred Fishkin (technology reporter, Bloomberg Radio), Jackson Lynch (WIRED)
To view the live stream and recorded videos, or more information, visit: www.kodak.com/go/ces
I, personally, will be watching today and can't wait to hear all the panelists and learn more about Kodak. Stay tuned for recaps on the sessions right here on Momma Findings or join the conversation with me and others by following @Sarann on Twitter.
WIN IT
Thanks to Kodak, one lucky Momma Findings reader will win a Kodak D830 Digital Frame (valued at $139)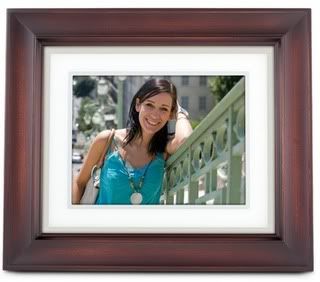 About the D830 Frame: Show off your pictures and your style on a KODAK EASYSHARE D830 Digital Frame. With its unique design, you can create a look that's exclusively you by pairing your digital frame with thousands of standard picture frames on the market, even a favorite you may already have. So enjoy beautiful pictures, stirring memories—all with your personal touch.
How to Enter:
Required Entry:
In the comment section, tell me if you'll be attending the #kzone activities today or tomorrow. Leave your Twitter ID (so I can follow you) and which session(s) sound fun and informative to you.
If entering after CES events: Tell me what you learned by watching the K-Zone LIVE stream or any cool Kodak products you're looking forward to purchasing.
Extra Entry Options:


– 3 Extra Entries Follow me on Twitter and send out a Tweet linking to this contest with hashtag #kzone (This option only available Jan 7-8th during the time of CES events).


– Blog about K-Zone and this contest by linking to this post.


– Sign up to be an email subscriber right there on the right side


– Add the Momma Findings button to your blog sidebar


– Follow Momma Findings on Facebook Networked Blogs (scroll ALLL the way to the bottom of the blog for the link).


– Follow Momma Findings on Google Friends .
Contest starts today January 7th – January 20th Midnight Central Time and open to US residents only. Leave each entry in separate comments. You don't have to be a blogger to enter, but please leave a valid email address for contact purposes.
This post made possible by Kodak and their representing PR agency who provided me a D830 digital frame. Opinions here are solely my own and have not been wavered by the products I received or compensated in any other way.
**CONTEST HAS NOW ENDED**
Congrats Erica! Please Check your inbox on how to claim your prize.
Sara Patterson has been blogging since 2007, but took a break for a couple years to tackle the world of news. She was the Social Media Director for a Houston based market 10 news station for over 2 years, but decided it was time to go back to her roots as a parenting blogger so she can spend more time with her family. She has now become an independent social media consultant for a variety of clients such as Hunger Free Texans and Downtown Galveston. Follow her personal Twitter account
@SocialNewsSara,
blogging account
@Family_Appeal
.
Latest posts by Sara Patterson (see all)