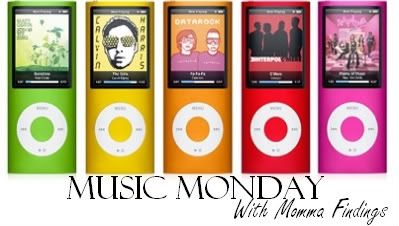 Welcome to the ALL NEW Music Monday here at Momma Findings. It's a New Year and with it, comes New showcases, new graphics, new …. well.. just about everything. You'll see Momma Findings transform gradually over the next month as I merge my personal blog My Sippy Cup Runneth Over into one Mega Mom Blog here at Momma Findings!
First up: It's our Music Monday! Monday's are all about songs that inspire us, keep us moving, and save our sanity. I'm going to share with you what songs are inspiring me each week and we'd love you to join us! All you have to do is:
– Pick a song that is inspiring you each Monday
– Post the lyrics, YouTube video, or a story of how it's made you feel
– Sign McLinky below with the URL to your post
– Link to Momma Findings: Music Monday
– Grab our Music Monday Button (coming soon
Tonight, It's late.
Thinking. Praying. Listening to what God is telling me.
Tonight, before I tucked my daughter into bed, I had an overwhelming feeling, a need to tell her how much I love her. I love this child more than I can express. The bond between Mother and Daughter can be so strong and I needed her to know:

"Honey. I love you. I want you to tell me you love me whenever you want and I'll do the same okay? I want you to be able to come to me with anything and feel comfortable knowing I'm going to listen and give you words of wisdom in return."
I gently put my hand on her face, turn her chin towards me.
"Look at me. I'm ALWAYS going to stand up for you. ALWAYS. I need you to know that I'm going to be on your side no matter what."
She asked if she could sleep in my bed with me tonight since Daddy is working nights. As she fell asleep in my arms I thought to myself She can never fathom how much I love her.
Do you think God thinks like that?
I can hear Him saying, "Man! That Sara girl! She'll NEVER understand how much I love her!"
Today I'm reminded, by Chasen, how His love goes on and on and on and on and on. How powerful!
Chasen – On and On
Album: On and On
Awake tonight
I'm breathing the air of the night sky
Listening and wanting
An answer to questions You're wondering
I never thought it ever would be possible
To cross the lines with You
That govern what we say and do
But no height and no depth could separate us
CHORUS
Some say we need miracle
Some say there's a whole credo
But I know Your love is strong, it goes on and on
Rise up when it gets us down
It'll be the voice in a blaring crowd
Because we know Your love will lead us home
It goes on and on and on and on…
I tried my way
It always ends up being a mistake
But You're right when You say
That You set the time for the plans You make
I never thought that I could ever learn to let it go
Somehow its better when I follow in the paths You show
So I'm here I'm waiting
Cause I believe
CHORUS
BRIDGE
There is no fear of belief
There's just this cold reality
That wants to take me away from You
There is no doubt in my mind
That in Your perfect time
Your plans and Your ways will unfold.
CHORUS
Your love is, Your love is
Sara Patterson has been blogging since 2007, but took a break for a couple years to tackle the world of news. She was the Social Media Director for a Houston based market 10 news station for over 2 years, but decided it was time to go back to her roots as a parenting blogger so she can spend more time with her family. She has now become an independent social media consultant for a variety of clients such as Hunger Free Texans and Downtown Galveston. Follow her personal Twitter account
@SocialNewsSara,
blogging account
@Family_Appeal
.
Latest posts by Sara Patterson (see all)