As iron sharpens iron, so a friend sharpens a friend.
Proverbs 27:17
If you've been around My Sippy Cup Runneth Over from the beginning, you already know that we've moved around alot. This blog started as soon as I moved to North Carolina, got me through tough times in Tennessee, and then brought me back to the place of my roots, Texas.
During our travels, I found myself in a place of adaptation. With determination, I found Play Groups, Bible Studies, Book Clubs, and Dinner Clubs. Nothing was going to stop me from making my new city a home.
Thinking about it all, brings back memories of one sweet friend, Nicole. She was one of the first people I met at the park. With a son my son's age and one on the way, I just knew we could be close.
After that day, we talked on the phone like school girls, laughing about our day, talking about Motherhood, Marriage, and our past. We met for coffee and even made trips to our favorite store, Target, just because. I thanked God that she was there at a time where my husband's work hours were long, my children were young, and my sanity seemed transparent.
Back then, I had no idea what friendship really meant. I had friends in High School, but I was a child, a child who married at a very young age (20). Here I am in adulthood and don't know how to be a friend, but I was willing to give my best effort.
Months later, I'm walking through the hallway of a hospital, on my way to see the precious baby Nicole has brought into the world. I threw her baby shower, but somehow the only thing I remember about it was the one gift I so-carefully picked for her sweet baby. I didn't want to buy diapers, booties, or clothes, but instead opted for a Bible.
I know it wouldn't help during those middle-of-the-night feedings, however, a Bible was all I felt this sweet family needed. I carefully wrote a message inside, signed my name, and with my hands on the cover of this Pink Bible, I prayed.
For this unborn Child
Prayed for her Mother
Prayed for her Brother
Prayed for her Father
Prayed for her Family
Prayed for her Soul
Prayed for her Health
Prayed for her Well-Being
Prayed for her Salvation
Prayed for her Childhood Years
Prayed for her Life
That's all I knew to do.
So, the day I realized my friendship with Nicole was over, it broke my heart that I wouldn't be in this Child's life. After the hours I prayed over her and that Bible, it broke my heart in two. I continued to pray for this family, agonizing over what I had done wrong, what I could do to fix it, and how I could ever bring myself to be close to another friend again.
About a year passed when I met the next group of women that would influence my life as a young Mother. These women would hold me close, pray with me, laugh with me, and cry with me. They taught me what real friendship means and, most importantly, how to do it.
We have since moved back to Texas after years of friendship making and I'm close to my family. I see my Mom and my sister all the time and it feels safe not to HAVE to build another friendship from scratch, however, I definitely wouldn't mind widening my circle of friends.
I was at Joyce Meyer Conference a few weeks ago and I reached into my purse to get my Purple Bible. This was a special gift my husband bought for me when I attended my first MOMS Bible Study with Jean Stockdale. This was my first Bible Study and I didn't know what to expect. I was scared and excited, but most of all thrilled that my sweet friend was with me………… Nicole.
Pictures of her sweet family ran through my head and then I felt a buzz at my feet from my phone.
A Facebook Message.
From Nicole.
Thanking me for the gift I gave her daughter years ago. She's in Sunday School class now and wanted a Bible to take for AWANA. Nicole searched through her memory box and found the Pink Bible I shed prayers upon that night.
Kendall is her name and I've prayed for her before the world even met her.
A gift I thought wouldn't be much help during those baby years, has come full swing, but little did I know God's intention was not only to give a gift to this child, but to me.
My Gift has been abundant.
A lesson in how to love unselfishly.
A grown Faith in knowing His plan is perfect…. With Everything.
A comfort in His love for me and the people he brings into my life.
Friendships are brought into your life, only for a moment. God chooses these people to influence your heart, but, I feel, He also plans the day we are to let them go and enjoy the journey that has yet to come.
This post inspired by the Bryant Family, whom I've never stopped praying for.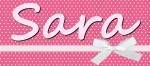 Sara Patterson has been blogging since 2007, but took a break for a couple years to tackle the world of news. She was the Social Media Director for a Houston based market 10 news station for over 2 years, but decided it was time to go back to her roots as a parenting blogger so she can spend more time with her family. She has now become an independent social media consultant for a variety of clients such as Hunger Free Texans and Downtown Galveston. Follow her personal Twitter account
@SocialNewsSara,
blogging account
@Family_Appeal
.
Latest posts by Sara Patterson (see all)