On this cool, crisp, Fall Monday, I've got my daughter on my mind.
She's only 6 years old, but every day I see her more and more affected by her peers to have the latest. I understand how she wants to fit in, especially at school, however, it breaks my heart to see her pressured so young. She's still so innocent, free spirited, and beautiful.
Which brings me to her relationship with her "BFF". There is a young girl just one year older, who rides the bus with her. Our families are great friends now, but these two girls fight more than they have fun, constantly criticizing the way each other looks. There is such a need to be "better" than one another that they miss the opportunity to encourage each other, love each other, and show their peers what friendship should and could be.
If only they can see that beauty is more than clothes and shoes. Beauty is within ourselves, a confidence that God gives us to be gentle, joyous, loving, patient, peaceful, good, faithful, self-controlling, and kind.
I think, as women, we all struggle with looks. Personally, it's been my weight since having children. I remember an incident with a good friend of mine after having my first child.
I was at Old Navy trying to buy jeans. Mind you that I JUST had a baby, so I was probably still crazy emotional. So, as I picked out what I wanted I turned to this friend and started crying, "I can't buy these. The person at the check out counter is going to think I'm a fat cow!"
The laughter out of his mouth sticks in my brain, when he reassured me I wasn't a fat cow because of being a size 8 after giving birth. Boy do I need that encouragement now that I'm size 12 after two MORE children, but more than anything I need to remember that beauty is MORE than what number displays on my bathroom scale, the make-up I have on my face, or the shoes I don on my feet.
I struggle because of past mistakes, I've made in my marriage and bigger events that unfolded in the last year.
I struggle because it's hard to be confident in yourself when all you see is piles of laundry and dirty dishes all day.
I struggle because I can't fit into size 8 anymore.
I struggle because my hair is coarse and frizzy.
I struggle because, most days, I'm fighting with a 2 year old.
I struggle because I see so many beautiful women around me.
I struggle because I'm tired.
I struggle because life moves too fast.
I struggle because I forget that God has made all of us so perfect, in His image, for a bigger purpose. We can never fully understand just how wonderful His works are.
There could never be a more beautiful you and young mothers, especially, need to hear that. I know I do. So, on this crisp, Fall, Music Monday… Jonny Diaz reminds all of us just how beautiful we are.
But the fruit of the Spirit is love, joy, peace, long suffering, kindness, goodness, faithfulness, gentleness, self-control.
(Galatians 5:22)
I praise you because I am fearfully and wonderfully made; your works are wonderful, I know that full well. (Psalm 139:14)
Jonny Diaz – More Beautiful You
From the album More Beautiful You
Little girl fourteen flipping through a magazine
Says she wants to look that way
But her hair isn't straight
her body isn't fake And she's always felt overweight
Well little girl fourteen I wish that you could see
That beauty is within your heart
And you were made with such care
your skin your body your hair
Are perfect just the way you are
There could never be a more beautiful you
Don't buy the lies disguises and hoops they make you jump through You were made to fill a purpose that only you could do
So there could never be a more beautiful you
Little girl twenty-one the things that you've already done Anything to get ahead
And you say you've got a man but he's got another plan
Only wants what you will do instead
Well little girl twenty-one you never thought that this would come You starve yourself to play the part
But I can promise you there's a man whose love is true
And he'll treat you like the jewel that you are
Chorus
So turn around you're not too far
To back away be who you are
To change your path go another way
It's not too late you can be saved
If you feel depressed with past regrets
The shameful nights hope to forgets
Can disappear they can all be washed away
By the one who's strong can right your wrongs
Can rid your fears dry all your tears
And change the way you look at this big world
He will take your dark distorted view
And with his light he will show you truth
And again you'll see through the eyes of a little girl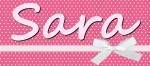 Sara Patterson has been blogging since 2007, but took a break for a couple years to tackle the world of news. She was the Social Media Director for a Houston based market 10 news station for over 2 years, but decided it was time to go back to her roots as a parenting blogger so she can spend more time with her family. She has now become an independent social media consultant for a variety of clients such as Hunger Free Texans and Downtown Galveston. Follow her personal Twitter account
@SocialNewsSara,
blogging account
@Family_Appeal
.
Latest posts by Sara Patterson (see all)