I was blessed with an amazing opportunity this weekend. Can you imagine meeting and networking with one of the most encouraging online communities for women?
I can.
Representing a company I love, I packed my bags, kissed my husband and babies goodbye, to jump on a plan to Las Vegas.
First and foremost, I need to tell you how "Over the Moon" I was to see my sweet Toni Girl. This girl has encouraged me with my online endeavors for sometime now, she's let me vent about life, cry when I needed to, and most of all, laugh when it was obvious that's all we could do. She lives miles and miles away from me, yet I feel she's always there when I need her.
At BlogHer '09, I was there as a Label Daddy Representative, but also as a blogger. This time, Label Daddy trusted me to be there as the "Head Honcho". It was odd being there as a company rep only. I had the chance to see the conference in a different light, seeing how bloggers, women, and conferences look to companies for support.
One particular company had all of us "Poken" each other.
Another, set out to talk to us on a personal level. Healthy Choice, took a select few to a beautiful brunch at Bouchon. We talked food, we talked blogs, we talked social media, we talked about how relationships can be effectively developed between companies and bloggers. I got to sit by the Food Scientist. This guys KNOWS his food, quite impressive! Not really knowing the job of a Food Scientist, I wasn't prepared with questions, but this will come soon. (Do you have any? I'm happy to submit them to him.)
Look at these sweet Healthy Choice girls! Thanks for a great brunch and I am looking forward to collaborating with you for future campaigns.
Okay, so I'm KICKING myself for not taking a picture with Tiffany and Heather. I mean, where the hell was I, that I didn't take a pictures with these Rockin' Mommas!? As I kick myself a million times, I'll just let you in on who I DID get pictures with. Check, Check, Che-Check it out:
Melissa is an inspiring Momma who breaths and lives her testimony of Faith. I love this girl. Let me say it again…. I LOVE THIS GIRL.
I had to be coaxed by Toni for this one. Renee, to me, is so confident that I was actually REALLY intimidated to approach her. Seriously. I'm certainly glad that I did because, as Toni said, she is SO sweet.
This girl hit me right away with her smile. Sevi, is new to me. That's what I love about the SITS community, there are always new bloggers to be found, new writings to make us laugh, and new women to meet and remember.
Thoughts of hashtags, #beatcancer #sitscation #vegas #bwe, #tonifail, #bucklostagain, #jackhole, #swoopandsurround, #sugarcougar, and my personal favorite #saraexhaustedandoverwhelmed, drifted in and out of my brain as I passed out the entire flight home. It was shocking that I fell asleep before the plane left the runway and I awoke to, "Passengers you are now arriving in Houston, TX. Weather looks to be mild, high of 77." WHOA! I feel sorry for the person next to me! She probably thought she was sitting next to a zombie.
All in all, great opportunities were had, amazing names were put to faces, and memories were made beyond my day-to-day life as a Mom.
The Secret to Success IS Support, whether you're a blogger, sponsor, company, PR rep, speaker, tech guy, friend or spouse tagging along. Who knew?!
Thanks Tiffany and Heather for a successful conference! Wait, I DID get a picture of them:
You can LITERALLY see Tiffany's confidence. This girl OWNS it! And Heather? Well, she's the "Silent Bob" of the pair, but it works! The words she does speak are powerful and encouraging. And isn't she just so darn cute? I can just put her in my pocket and carry her around all day!
Later this week, come check out how I look married to George Clooney, what Shaq's armpit looks like compared to my face, and how I got to play golf with Tiger Woods. REALLY!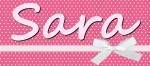 Sara Patterson has been blogging since 2007, but took a break for a couple years to tackle the world of news. She was the Social Media Director for a Houston based market 10 news station for over 2 years, but decided it was time to go back to her roots as a parenting blogger so she can spend more time with her family. She has now become an independent social media consultant for a variety of clients such as Hunger Free Texans and Downtown Galveston. Follow her personal Twitter account
@SocialNewsSara,
blogging account
@Family_Appeal
.
Latest posts by Sara Patterson (see all)