So, I'm a little late on the Music Monday, but hey.. It's only 7:00pm here!
This week, I'm kinda giddy about my music pick. My husband and I went on a long trip last weekend to Memphis. We listen to a LOT of music on trips like this. It's really fun when we hear songs we haven't heard in years, music that brings back old memories, and music we first heard as kids, from our parents.
Lots of old country.
Well, one particular song came on by Brad Paisley. It's one of my favorites so we listened quietly and afterwards he says, "That's one of my favorite songs for you."
Awe.
Tear.
Check out Brad's Little Moments if you haven't already (forgive the commercial at the beginning, it the only video I could find to embed):
It's funny because I HAVE burned a cake or two.
I've said some words I wouldn't repeat in front of the kids.
I've done so much that I, personally, might feel horrible about, but he is so patient, so relaxed, and most of all……… so forgiving.
I'm not perfect, but I try and I live for every moment we have together.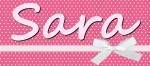 Sara Patterson has been blogging since 2007, but took a break for a couple years to tackle the world of news. She was the Social Media Director for a Houston based market 10 news station for over 2 years, but decided it was time to go back to her roots as a parenting blogger so she can spend more time with her family. She has now become an independent social media consultant for a variety of clients such as Hunger Free Texans and Downtown Galveston. Follow her personal Twitter account
@SocialNewsSara,
blogging account
@Family_Appeal
.
Latest posts by Sara Patterson (see all)