This weekend, my husband and I drove out to Memphis to take care of some personal matters. He was going on very little sleep since he was working nights the day before we left.
The kind wife that I am, I offered to drive so he can get a nap. I don't know about you, but I usually find someone who is going about the same speed limit as me, switching lanes only to pass, etc. So, lucky for me, I found a truck pulling an RV. For about an hour I followed him, slowing when he slowed and speeding up as he did.
Next thing I know I see debris from the right side of his RV. A little smoke and his hazards flip on as he slowly pulls over.
If I was a little closer I would have gotten hit by the flying debris and maybe even hit him from behind. I was quick to think and swerved to the left lane just barely missing it all.
"OH MY GOSH! That STINKS!"
My husband, waking from his slumber says, "What?! What happened?" He hadn't noticed a thing as his main concern was getting rest.
Have you ever done that? Follow someone so closely thinking they were on the right track? How about in your Christian life?
I did it.
I had a friend whom I trusted with all I had, loved with every inch, and every word she spoke I breathed in. There were times I thought she was so wise. I want to be just like her.
That was years ago.
Although, I know we walk an imperfect Christian life, our friendship ended with me looking at, what seemed like, a stranger. I followed her so closely that I forgot about the Faith God has give ME as a Mom, Friend, Sister, and Wife. I emulated myself into what SHE was, that it blew up on me out of nowhere. I walked so closely in her footsteps as she "mentored" me and it blew up in my face out of nowhere!
I remember the day like it happened yesterday. Me standing in her home. Her saying horrible words to me, asking me to leave her house, her tears falling and me wondering who this stranger is and why she's acting like this.
"Don't EVER talk to me again."
The words I spoke that broke my heart in two.
I'm learning to Walk by Faith again. Faith isn't saying God can. Faith is saying God WILL. I've been forever changed by His everlasting love and experiences He's given me. As I walk blindly in this unknowing life, I can trust God sees clearly and directs the speed of my life with friendships, mothering, and being a wife to the husband He, so closely, chose for me.
And this is my prayer: that your love may abound more and more in knowledge and depth of insight, so that you may be able to discern what is best and may be pure and blameless until the day of Christ.

Phillipians 1:9-10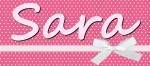 Sara Patterson has been blogging since 2007, but took a break for a couple years to tackle the world of news. She was the Social Media Director for a Houston based market 10 news station for over 2 years, but decided it was time to go back to her roots as a parenting blogger so she can spend more time with her family. She has now become an independent social media consultant for a variety of clients such as Hunger Free Texans and Downtown Galveston. Follow her personal Twitter account
@SocialNewsSara,
blogging account
@Family_Appeal
.
Latest posts by Sara Patterson (see all)