2009-2010 School Supplies List
Kindergarten:
Dry Erase markers
Markers
Crayons
Manila drawing paper
Scissors, blunt
Copy paper
Black 3-ring binders
Nail polish
Insertable plastic dividers
Colored pencils
Gallon-size baggies
Quart-size baggies
Facial Tissue
Glue sticks
Liquid glue, 4 oz.
Old-School-Momma-Thinks-Supplies-Are-Expensive-SAY-WHAT?!!
Any Momma can look at a list like that and notice, right away, that nail polish definitely isn't something that is needed for Kindergarten, but this 5-year-old thinks otherwise:
Meet Abby. She is your regular 5-year-old who likes dancing, coloring, and watching TV. Kindergarten is her next stop on her way way to Hollywood… or so she thinks. (She started Kindergarten LAST year in NC, but couldn't attend due to different cut off dates once we moved.)
Somehow, the sweet girl who liked computer games, reading, and playing at the park turned into this demanding Fashion Diva when we went shopping for school clothes. Her Elementary, this year, does not require uniforms so we are fighting the battle Budget Vs. Fashion.
Nail polish was, apparently, number one on her list when it comes to Back-to-School shopping so you can imagine the fit that came out of that sweet mouth when I told her we needed to concentrate on clothes, underwear, socks, supplies, lunchbox, etc. We would NOT be buying nail polish, especially when Grandma brought out her case of gazillion colors for us to choose from for our nail salon session with Aunt Mona (a treat I thought she'd love after the shopping was done).
A point of understanding was reached from what I gathered. I mean, I'm a cool Mom. I thought we could enjoy a day of shopping. I'd quietly laugh when she picked a funky outfit. We would play fashion show in the dressing room and then stop in somewhere for ice cream and marvel at our finds.
WRONG!!!!
Hate it.
Uh No.
Never gonna wear that.
Don't think so.
Seriously, these sweet words came out of my daughter's mouth as if she was Queen Abby, on her throne and READY to rule the school!
Not if I have anything to do with it!
It took all I had to NOT leave her right there where she stood, but instead paid for my son's clothes (who's only request was for me to buy him lots of socks). We ran through the rain, to the car, and when we arrive home I explained to her she would be getting nothing for the school year, but secretly planned to pick out her clothes myself and have them ready the morning school starts, after she apologized for such rotten behavior. What did she say?
I'm gonna starve myself for TWO WEEKS! *crosses arms*
Yeah. She ate an hour later. Still no clothes.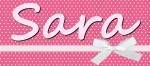 I'm gearing up and getting organized for Back-to-School at my house and my blogs so stay tuned for:
-Fun photos, boo hoo Momma moments, and the chaos that goes along with Back-to-School can be seen by clicking here.
-School tips and tricks at the Label Daddy Blog. Look out for a great Back-to-School giveaway and learn about how and what to label as your kids head out the door this year.
–Momma Findings will feature Office Max's really cool line of school supplies Schoolio Von Hoolio, fun lunch/snack reviews such as the NEW Lance Sandwich Crackers review, and a Back to School Supplies Giveaway!
Sara Patterson has been blogging since 2007, but took a break for a couple years to tackle the world of news. She was the Social Media Director for a Houston based market 10 news station for over 2 years, but decided it was time to go back to her roots as a parenting blogger so she can spend more time with her family. She has now become an independent social media consultant for a variety of clients such as Hunger Free Texans and Downtown Galveston. Follow her personal Twitter account
@SocialNewsSara,
blogging account
@Family_Appeal
.
Latest posts by Sara Patterson (see all)