Yesterday, I posted a picture of my Sweet BIG, STRONG boy, Rudy and got a few comments that made me think Hmm.. Really? Does he look like a girl in this picture?
I mean, he IS wearing his water suit to help him float in the pool, but dainty? Girlish? He is not. Check it out:

-Stacie said…
Look at her face! Too cute!

July 15, 2009 9:20 AM

-Sue said…
Cute pic. She really has a great expression!

Happy WW!

July 15, 2009 12:43 PM

-Emily said…
haha! What a cute little face she's making

July 15, 2009 12:57 PM

So, it has driven me to compile my Top Ten 10 Reasons My Son is Not a Girl:
10.) He loves Sports
9.) He works hard at washing the car
8.) He wears a baseball cap like a Pro
7.) He can't eat without getting it all over himself
6.) He knows how to work underneath the hood of a car
5.) He's not afraid of Heights
4.) He loves to watch TV
3.) He likes to be waited on when he's sick
2.) He loves a good Gun fight
1.) And the top reason he is, definitely, not a girl? He loves his Momma too much!
Still convinced he may be a girl?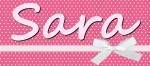 Sara Patterson has been blogging since 2007, but took a break for a couple years to tackle the world of news. She was the Social Media Director for a Houston based market 10 news station for over 2 years, but decided it was time to go back to her roots as a parenting blogger so she can spend more time with her family. She has now become an independent social media consultant for a variety of clients such as Hunger Free Texans and Downtown Galveston. Follow her personal Twitter account
@SocialNewsSara,
blogging account
@Family_Appeal
.
Latest posts by Sara Patterson (see all)