I'm a Young, Hip, Momma.
At least I like to think so.
We were hitting bed time the other night, when I saw my 5 year old daughter with butt loads of candy on the table. She was just smacking away like it was nobody's business, without consideration of even ASKING me if she could have candy late in the evening.
By the time I turned around my two sons grabbed up some sweets and were chopping like cows in a pasture. My Momma X-Ray vision could actually see the cavities popping into each one of their little tiny teeth along with a sugar rush that resembled a shooting star zooming straight to their head.
Without hesitation, I told them with my stern voice that there would NOT be any more snacks for the rest of the night, something that is unheard of to them since moving to TX. And you KNOW what I mean Ganee! They have their very own GINORMOUS snack box that my Mother-In-Law puts together for them with overflowing Kit-Kats, Gummy Worms, Baby Bottle Pops, and anything else a child would want. Seriously. If you're in town, hit Ganee's snack box and you'll be set.
So, it's my job at my Parent's house (where we're staying until we find a house), to keep my children in line, especially in the nutrition department. This particular night, I finished my 15 second lecture on why we can't have any more snacks and pointed at each child making sure they understood.
My job for the night is done.
I'm confident in my finger pointing skills.
Then I hear, "Sara's the minute lady!" This coming from my Mom to my sister, I knew exactly which "Minute Lady" she was talking about. Take a look:
So, as much as I don't want to sound like an AT&T spokesperson (I'm a happy Verizon customer), I actually see how my family would label me as the Milky Minutes Mom.
I've got both the finger pointing and Momma voice down pat.
Yup.
It's an acquired skill.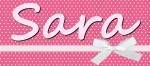 Sara Patterson has been blogging since 2007, but took a break for a couple years to tackle the world of news. She was the Social Media Director for a Houston based market 10 news station for over 2 years, but decided it was time to go back to her roots as a parenting blogger so she can spend more time with her family. She has now become an independent social media consultant for a variety of clients such as Hunger Free Texans and Downtown Galveston. Follow her personal Twitter account
@SocialNewsSara,
blogging account
@Family_Appeal
.
Latest posts by Sara Patterson (see all)