Thirty years of molding for my precious husband. He turned 30 on May 8th and what a celebration is was! His sweet parents drove from Texas to be with us on that special day and we did a LOT of eating, laughing, and relaxing.
Everywhere we went I'd tell complete strangers, "My husband is turning 30! Isn't that great?!" I got a few elbows pokes, rolling of the eyes, and walking away, but HEY, it's not every day your spouse reaches a milestone in life! 30! It's the new 21 you know!
I feel like a schmuck because I usually blog about the cool things happening in my life, but have since taken more time to actually ENJOY those things that I forget to write. Ah Well!
Happy 30th Birthday Sweet Man
*Clears Throat* And now I'll do my rendition of "30 I Love You's" You love me in so many ways so it's going to be hard to pick out everything I love about you.
30. You take Zach to school every morning, leaving me some morning time to myself.
29. You have the softest hair (Um…. you might not like that one, but it's true).
28. You always find time to jump on the trampoline with the kids.
27. The way you roll your eyes after I've changed for the 5th time on Sunday Mornings.
26. The way you balance me out.
25. How you like to drink from the BIGGEST cup you can find.
24. You never say anything negative about my cooking.
23. Your cooking is always amazing!
22. How you like to do yardwork and never bug me to do it.
21. The way you sing (Really. You should join the choir)
20. You never raise your voice.
19. You never put me down.
18. You've embraced a confidence in our marriage that outshines everything else.
17. You kiss me Hello and Good-Bye ALL the time.
16. You know I've had a bad day w/o me saying it.
15. How you rock at Guitar Hero.
14. How you're not ashamed that you don't like running (for exercise).
13. That you go out of your way to make it home on time on Thursday evenings for me to make it to group.
12. How you adopt a "saying" every few months: The Proof is in the Pudding is the newest.
11. How you make catching flies into a game at the dinner table.
10. Your willingness to quit smoking no matter how many times you need to start over.
9. How hard you work every day to provide for us.
8. That you embrace our decision for me to stay home with the kids. Always.
7. How you pour your love and laughter on us every day.
6. Your ability to admit when you're wrong and even when you're not.
5. Your patience with me.
4. How you sometimes match your dress shirt to my dress for Church.
3. The way you spoon me before bed.
2. How you know when to give me time after an argument.
1. How you started praying with me at night.
Your next 30 years will be the best years of your life! Happy Birthday. I love you.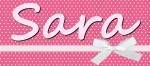 Sara Patterson has been blogging since 2007, but took a break for a couple years to tackle the world of news. She was the Social Media Director for a Houston based market 10 news station for over 2 years, but decided it was time to go back to her roots as a parenting blogger so she can spend more time with her family. She has now become an independent social media consultant for a variety of clients such as Hunger Free Texans and Downtown Galveston. Follow her personal Twitter account
@SocialNewsSara,
blogging account
@Family_Appeal
.
Latest posts by Sara Patterson (see all)