*sings* I'm leaving on a Jet Plane. I don't know when I'll be back again!
I'm not really leaving ON a Jet Plane, but I feel that rush of excitement as if I am. I'm headed off on an amazing weekend of Christian Fellowship. My weekend of FaithWalk begins tonight and the feelings I have are indescribable.
For the last few weeks people would ask me, "Are you excited? It'll change your life!"
Ugh.
If I hear that one more time I was going to scream, mainly because I'm scared it won't. In reality, when you're saved and accept Jesus Christ as your Lord and Savior is the most significant event in one's life, but THIS weekend is supposed to be "a little taste of Heaven."
What if I'm supposed to be and act a certain way when I return and I don't? What are the expectations and what if I don't fulfill them after the weekend is over? What if I'm normal, every day, same ole' same ole' Sara?
…….then that would be absolutely alright. I'm taking a leap of Faith tonight as I leave my Husband and 3 kids for almost 4 days. By the way, there are no cell phones, blackberry's, laptops, watches, or clocks allowed in Heaven. So, there will be no Facebook updates, blog posts, or Tweets.
Worldly time is officially gone.
My FaithWalk begins today folks, it begins today.
**If you guys can say a prayer for my Sweet, Sweet, Husband that would be absolutely amazing. He's never been with the kids alone overnight, let alone 4 days. Yikes!**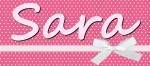 Sara Patterson has been blogging since 2007, but took a break for a couple years to tackle the world of news. She was the Social Media Director for a Houston based market 10 news station for over 2 years, but decided it was time to go back to her roots as a parenting blogger so she can spend more time with her family. She has now become an independent social media consultant for a variety of clients such as Hunger Free Texans and Downtown Galveston. Follow her personal Twitter account
@SocialNewsSara,
blogging account
@Family_Appeal
.
Latest posts by Sara Patterson (see all)