Read that title:
It's Tough Being a Woman in the Tight Fist of Fear
Does it bring any emotion to you? For, me it's been a mixture of emotions. For the last few weeks my fists have been clinched, not out of anger, but out of fear. Here's the most appalling part though… Out of fear of other women.
I haven't been scared of someone since like the 6th grade when I partnered with the class bully for fear of being bullied. Yes, you read that right, I, Sara, was a bully in the 6th grade. I remember going to the Principle's office denying it all, "No, I never repeatedly stepped on that poor girls heels to trip her up. No, I didn't leave anonymous comments notes on her desk to make her cry. No, I didn't talk about her behind her back and spread rumors about her. No. It wasn't me."
Then, I walked out of the office so proud of how I got out of trouble yet again. As I passed the window laughing, I saw her… HER… sitting there curled up in a ball on the bench with tears falling down her cheeks.
Esther (ironic, huh?).
She had dark olive skin.
Dark long hair.
And the softest little voice.
Her name was Esther and I DID step on her heels to trip her up. I DID spread ugly rumors about her. I DID leave her ugly notes and say nasty words to her as I walked passed her in the hallway. I was the epitome of the Mean Girl all because I was afraid of becoming the bullied.
In Session Four of Beth Moore's Study It's Tough Being a Woman she states that Esther had a choice. She had to overcome herself in order to do what God had created and positioned her to do. Think back to my 6th grade bullying. If I had over come MYSELF I would have seen that my fear was nothing compared to the fear I was creating in someone else. Beth gave me chills down my back when she said, "We have such a strong preservation to save ourselves that we lose/forget our own calling. Esther had a Self Preservation that turned into a Brave Determination."
Beth, the Lord gave me that Brave Determination and showed me that I don't have to be afraid, especially of other people. I no longer have those "what-if's" in my situation because I faced it all with God whispering in my ear, "THIS is right. YOU stand up for yourself. YOU stand up for others and YOU become a reflection of Christ's light to others."
I agree with what one of the girls said in the "Red Book" that others think to be feminine is to be weak and vulnerable. I am neither when I follow His Will.
I've got LOADS more to say about why I think it's tough being a woman. Check out my VLOG: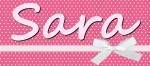 Sara Patterson has been blogging since 2007, but took a break for a couple years to tackle the world of news. She was the Social Media Director for a Houston based market 10 news station for over 2 years, but decided it was time to go back to her roots as a parenting blogger so she can spend more time with her family. She has now become an independent social media consultant for a variety of clients such as Hunger Free Texans and Downtown Galveston. Follow her personal Twitter account
@SocialNewsSara,
blogging account
@Family_Appeal
.
Latest posts by Sara Patterson (see all)