I'm starting something on my blog called Embrace the Conversation. I'm going to video tape my children once a week for these segments. It will not be practiced, rehearsed, and they don't know the questions beforehand.
Kids say some of the funniest, remarkable, yet astounding, and mind boggling things sometimes. Just this week, Abby had me in tears with something she said so innocently. It convicted me on the way I had been so grouchy that day.
Well, we're starting off light talking about TV shows! We'll leave the theology and conviction chatting for another time. You know, Wizards of Waverly Place, Noggin, Phineas and Ferb?! We do too!
Check it out: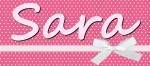 Sara Patterson has been blogging since 2007, but took a break for a couple years to tackle the world of news. She was the Social Media Director for a Houston based market 10 news station for over 2 years, but decided it was time to go back to her roots as a parenting blogger so she can spend more time with her family. She has now become an independent social media consultant for a variety of clients such as Hunger Free Texans and Downtown Galveston. Follow her personal Twitter account
@SocialNewsSara,
blogging account
@Family_Appeal
.
Latest posts by Sara Patterson (see all)