The last few days have been beyond hectic. We've been battling colds, flu's, fevers, and every little aggravation that you can think of.
This week has been exceptionally hard because I've been trying to catch up on reviews, writing, and Label Daddy (Pssst… We announced the Full BlogHer Sponsorship Winners and the Conference Pass winner yesterday).
But I've been in this battle for the last few days. I pick up my weapons that consists of Tylenol, Calamine Lotion, Thermometer, and Aveeno Oatmeal bath, but seem to be losing the battle that is:
THE CHICKENPOX!!!!
BOM BOM BOM!!!!!
(You like the sound effects?)
I keep thinking to myself, did the nurse at the Pediatrician's office shoot us blank rounds when we got the Chicken Pox Vaccine? Were we 1 of 50,000 who actually GET the Chicken Pox?! What gives? And WHY are you giving it to us?!
My 2 year old has a severe case of it. The evil spots and bumps cover him from head to toe and I just want to kiss him all over and make it better. Why didn't God give me the power to heal my children with just one kiss? My 5 year old has it too, but it is VERY mild, mainly on the inside of her arms, neck, and stomach.
This is how you know she is the daughter of a blogger:
Mom: (Gets the Camera) Rudy! Abby! Come here so I can take pictures of your Pox!
Rudy: *Claps with Glee* Pox! Pox!
Abby: *Rolls her eyes* Mom! Are you gonna put those on your blog?
Mom: Umm.. Well.. no honey they are for record keeping.
Abby: MOM! You ARE gonna put them on your blog. How EMBAWWASSING!
Mom: No, honey.. I'm not gonna put it on my blog. Really!
Abby: I'm not taking 'em. *crosses her arms*
Umm, I didn't win that battle because I have NO record of her Pox! The score:
Chicken Pox

– 2

Mommy

– 0
NOTE: Since so many are googling "chicken pox pictures" and finding this post. I needed to add a side note that we discovered later my toddler did NOT have Chicken Pox, but instead had Roseola.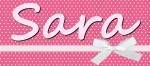 Sara Patterson has been blogging since 2007, but took a break for a couple years to tackle the world of news. She was the Social Media Director for a Houston based market 10 news station for over 2 years, but decided it was time to go back to her roots as a parenting blogger so she can spend more time with her family. She has now become an independent social media consultant for a variety of clients such as Hunger Free Texans and Downtown Galveston. Follow her personal Twitter account
@SocialNewsSara,
blogging account
@Family_Appeal
.
Latest posts by Sara Patterson (see all)