"Mom, I need quiet. I'm imagining I'm on a deadline and I HAVE to write this script before it's too late!"
I step away from the porkchops on the stove and glance over to my daughters white sheet of paper. I can't help but chuckle a little when I see the colorful pictures she had drawn along with words that end in -at: Bat, Cat, Sat, Pat, Hat, Mat. These are the words she is confident in writing so I see them all over the house.
As a woman who has longed to write since I can remember, it melted my heart to see my 5 year old playing "Make Believe" as a struggling writer on a deadline. Will she write movie scripts? Fiction? Documentaries? Will she be a columnist for a well-known newspaper or magazine? Do editorial work? Run a publishing firm? The possibilities are endless and it's exciting to imagine the future for my budding writer.
But.
Wait.
There is a future for me as a writer too. No, I'm not a published novelist (yet), but I HAVE been accepted as a writer/contributer for The Deep South Moms Blog, which is a branch of the Silicon Valley Moms Blog. There are some pretty impressive writers and bloggers worth reading such as:
Carmen from Mom to the Screaming Masses
Cassie who blogs at Southern Domestic Goddess
Christina at MamaNeena
Heather from Queen of the Mayhem
Jenn who blogs at Mommy Needs Coffee
Marty from Don't Take the Repeats
There are SO many other great bloggers at Deep South Moms Blog, you can check 'em ALL out by clicking here. If you scroll ALLLLL the way down you'll see a familiar face in a pink shirt *cough cough* That would be me! Check out my Bio and let me know what you think!
I'm so excited to be a part of this wonderful group of ladies and can't stop thinking of what my first post will be.
Writing isn't "Make Believe" unless you want it to be.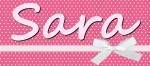 Sara Patterson has been blogging since 2007, but took a break for a couple years to tackle the world of news. She was the Social Media Director for a Houston based market 10 news station for over 2 years, but decided it was time to go back to her roots as a parenting blogger so she can spend more time with her family. She has now become an independent social media consultant for a variety of clients such as Hunger Free Texans and Downtown Galveston. Follow her personal Twitter account
@SocialNewsSara,
blogging account
@Family_Appeal
.
Latest posts by Sara Patterson (see all)