It's 11:30 a.m.
My 5 year old daughter and I have been up all night throwing up.
My 6 year old son had to miss his Christmas Party at school because he woke up throwing up.
My 20 month toddler is as happy as can be. (I'm thanking God for this one)
My 29 year old husband couldn't get out of work so I'm here sick, with two sick children, and a toddler who's wondering why we can't get out of bed.
BUT…………..
The cool thing is, I had the opportunity to be interviewed with a reporter at the Chicago Daily Herald yesterday!! Yup, we had a whole 5 minutes of conversation and I was giddy the whole time.
Want to read what it was about? Click here. You can leave a comment there OR here to let me know how silly I sound. 🙂
Okay, I just HAD to let all my sweet bloggy friends know, but I'm headed back to the bed.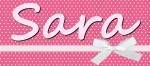 Sara Patterson has been blogging since 2007, but took a break for a couple years to tackle the world of news. She was the Social Media Director for a Houston based market 10 news station for over 2 years, but decided it was time to go back to her roots as a parenting blogger so she can spend more time with her family. She has now become an independent social media consultant for a variety of clients such as Hunger Free Texans and Downtown Galveston. Follow her personal Twitter account
@SocialNewsSara,
blogging account
@Family_Appeal
.
Latest posts by Sara Patterson (see all)