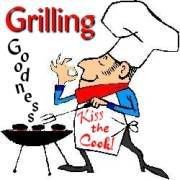 I promised my friend Tina I would start her wonderfully cute Meme called Grilling Goodness. Every friday she dishes up some really cool questions and to join in the fun all you have to do is answer them on YOUR blog, link to her Friday post, and sign Mr. Linky at her blog. Oh! Don't forget to grab her "cutie pie of a griller" button and add it to your sidebar.
Here we go:
1. How many Christmas parties have you attended or will you attend? I haven't attended ANY! *gasps* Can you believe that?! I feel anti social this year, but I still have 1 or 2 I plan to attend.
2. What is your favorite dish to take to a party? I'm not much of a cook, so I usually grab up the chance to bring cups, drinks, or plasticware
3. When you're at home and your feet are chilled, do you wear socks or houseshoes?I don't have any slipper or houseshoes, but if did I'd wear those. My sister bought me some really cute slipper type boots and I wore them so much I really need to throw them out because they are DONE.
4. What are your plans for this weekend?Well, I had plans to hang out with some really cool chicks, but this stinkin' sinus infections or WHATEVER it is has me feeling purdy darn cruddy.
5. What is the most expensive Christmas gift you are buying for your children this year? Hmm… good question. We didn't spend much money this year, so I guess the most expensive one we PLAN to buy is a Wii game.. what like 50.00?
6. Do you have a family portrait made each year? BWAH HAHAHAHAHA!! That is one funny question. I will save that till they are older. Right now, with three under the age of 6 I try to snap a good picture by the tree and that's our family picture.
7. Do you drive your kids around looking for decorated homes? We have almost every year. You know, grab a Christmas CD and hot chocolate, but they usually whine within the first 5 minutes about how boring it is. SO, this year we plan to save them the headache and I can blog instead.
8. What is your least favorite thing about cold weather? Getting Sick. BLAH! When us Mommas get sick we don't get "rest time" or "take off of work" or even "a quiet 10 minutes"… we trudge right through it so the household won't collapse and everyone gets to eat and dress in clean clothes. Can I get an Amen, Sista's?
Thanks for joining me in this edition of Grilling Goodness Won't you join us in the fun?!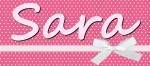 Sara Patterson has been blogging since 2007, but took a break for a couple years to tackle the world of news. She was the Social Media Director for a Houston based market 10 news station for over 2 years, but decided it was time to go back to her roots as a parenting blogger so she can spend more time with her family. She has now become an independent social media consultant for a variety of clients such as Hunger Free Texans and Downtown Galveston. Follow her personal Twitter account
@SocialNewsSara,
blogging account
@Family_Appeal
.
Latest posts by Sara Patterson (see all)