Today, we had a pretty nice outing. A friend of mine offered to pick us up to play at the mall. Instead, we ended up at my husband's office looking at a new dresser for her. Hmm.
Nevertheless, my friends husband met us there and we had the all inspiring idea to go out to lunch. I mean, we were all together so why not?! We STILL had to go to the mall once the guys went back to work because we promised the kids. So we enjoyed Starbucks, chatting, and relaxing while our little frogs jumped around in the play area.
So, that might not be eventful for most of you, but for us it is. I'm usually home working on blogs, reviews, columns, etc. and today the kids got to breath fresh air enjoy a day out.
Well, the ever innovative Abby tells me this when we get home:
Abby: Mom, I don't feel good.
Me: What's wrong honey.
Abby: I feel sick to my stomach and my head feels fuzzy.
Me: Let me see, maybe you should lie down.
Abby: I want to throw up and my throat feels funny.
Me: Well, you are kind of feverish and your face is pale.. Go lay down and I'll get the thermometer.
Abby: NO! Don't!
Me: Why not? I want to see if your have a temperature so I can give you medicine.
Abby: Um.. I think I know what will help. *Whiny Sweet Kinda Voice* A fresh batch of chocolate chip cookies.
Me: WHAT?!!!!!!!!!!!! *laughs*
Abby: *Crinkled Eyebrows* *Stern Voice* OK! I'm not telling you the truth….*puppy dog eyes* I just want cookies!!!
Me: Um, Save it for another day hun.. I'm not budging.
Dr. Abby prescribes a cookie to treat stomach aches, fuzzy heads, itchy throats, rumbling tummies, and the ever lasting sweet tooth. NEXT!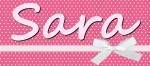 Sara Patterson has been blogging since 2007, but took a break for a couple years to tackle the world of news. She was the Social Media Director for a Houston based market 10 news station for over 2 years, but decided it was time to go back to her roots as a parenting blogger so she can spend more time with her family. She has now become an independent social media consultant for a variety of clients such as Hunger Free Texans and Downtown Galveston. Follow her personal Twitter account
@SocialNewsSara,
blogging account
@Family_Appeal
.
Latest posts by Sara Patterson (see all)