This morning I took the kids to school. I needed to let the office know that Wednesday would be their last day here in Charlotte and get the appropriate paperwork for our move to Memphis next Thursday. Well, I overslept and it was a rush to get Zach and Abby to school on time.
Alas, we made it, but the caffeine tank was empty and I needed to fill it fast! Now, granted you guys aren't around me in the mornings where coffee is absent, but it's not pretty. I turned into our neighborhood Starbucks, the nearest Starbucks which does NOT have a drive thru, the nearest Starbucks in a business district, at close to 8:00 in the morning. Do I need to tell you how packed it was?
As I walked in the doors I was already 10 people back and should have turned around to leave, but this Momma NEEDED coffee! It was already 8:00 am. I'm usually on my second or third cup by 8:00!
The comical part about the whole morning was the waiting. Yes, they had the fastest, most experienced, most polished baristas behind the bar and there was still 18 of us waiting for our drinks. Yes, 18… I counted. Pitiful, huh? I had to, because it was quite the show.
Sixteen people waiting in line and eighteen people waiting for their drinks. Can you imagine? Well, maybe if you lived in a New York City you could, but we're in Charlotte, NC, in a Starbucks embedded in the local grocery store. As I looked around, I realized I was the only one in my UGG Boots, jeans, and sweater. Out of ALL the people in the place EVERYONE was in business attire. Yes, I stood out like a sore thumb as bankers stood in line with their blackberry's, blue tooths, and briefcases.
I was silently laughing at it all when I heard, "Venti White Mocha for Sara!" I snapped out of the comedy that was unfolding to grab my drink, when the guy behind the counter (who usually works nights.. and it's sad that I know that) tells me, "I don't usually see you in here this early. Were you at your daughter's school today?"
DOH! I still had the "Visitor" sticker tagged on my peacoat.
Let's see 34 people waiting for coffee. All have a tie or dress suit on except one. Look around. What doesn't belong? *ding ding ding* The sleep deprived Momma wishing she went through the McDonalds drive thru instead.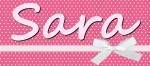 Sara Patterson has been blogging since 2007, but took a break for a couple years to tackle the world of news. She was the Social Media Director for a Houston based market 10 news station for over 2 years, but decided it was time to go back to her roots as a parenting blogger so she can spend more time with her family. She has now become an independent social media consultant for a variety of clients such as Hunger Free Texans and Downtown Galveston. Follow her personal Twitter account
@SocialNewsSara,
blogging account
@Family_Appeal
.
Latest posts by Sara Patterson (see all)