Yesterday, I had the privilege to have lunch with three awesome, cute, amazing guys. Their names? Brian, Rudy, & Brad (Yes, I threw your name in there since Brian thinks so highly of you).
We went to this Bar-B-Que place I had never heard of. Have you heard of Shane's Rib Shack? Hubby just HAD to take me there before we leave North Carolina. I didn't see the big deal really. It looked like a plain ole' bar-b-que place, but after I tasted the food I knew why the guys were raving about it. Their sweet tea is amazing, the Big Dad Pork sandwich impressed me, and apparently (according to Brad my mac & cheese connoisseur), the Macaroni and Cheese is the best in town.
What really got me was their Customer Service!! Rudy decided he did NOT like Shane's and wanted to be beyond difficult. Knocking over the chair, throwing fits, I almost wanted to go to the table across the room and pretend he wasn't my child, but I knew he'd follow me. The sweet lady behind the counter decided to bring us some crayons and a coloring sheet stating, "You think he'd like this?" Well, being that he eats crayons, "Why yes he would." I love when people take the time to see a struggling Momma and then try to do something about it to help. I was completely won over.
My next little happy of the day came when I received some really "Good Mail" in, where else, the mailbox! Check it out:
My sweet bloggy friend, who I wish I could live closer to, sent me a cute Halloween Pin and a sweet note. I can't wait to wear it to the kids school for their Fall Parties! Thanks Jen, you are really a blessing to me and know exactly when I need an encouragement push.
Last, but certainly not least, I ran across this cute car while at Abby's teacher conference:
It fit just right because the last two nights Hubs and I have been relaxing our booties off on the couch and watching the World Series. We've done this every year since we married and it's something I look forward to as the Baseball Season comes to a close. It's kinda cool because we can watch Brad Lidge and Jim Hickey who we've come to know with our beloved Astros. But here is a message for you Brad Lidge, "I'm cheering for those Rays! Evan Longoria has stolen this girls baseball heart!"
Hey, if you like the Rays or baseball in general go enter my giveaway at Momma Findings and win a cool Baseball Animated DVD for the kids!
Happy Friday Folks go out and grab some giddyness this weekend!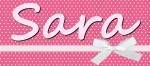 Sara Patterson has been blogging since 2007, but took a break for a couple years to tackle the world of news. She was the Social Media Director for a Houston based market 10 news station for over 2 years, but decided it was time to go back to her roots as a parenting blogger so she can spend more time with her family. She has now become an independent social media consultant for a variety of clients such as Hunger Free Texans and Downtown Galveston. Follow her personal Twitter account
@SocialNewsSara,
blogging account
@Family_Appeal
.
Latest posts by Sara Patterson (see all)