That's what I've been thinking about since my conversation with my husband last night.
He mentioned to me that once children reach school age, it's very important for a Stay-At-Home-Mom to have a hobby, job, goal, or sanity saver (if you will). He pictured a particular Mom sitting in her living room while all the kids are at school just wishing someone was home.
I kind of rolled my eyes without him seeing me because I don't feel that way, at least not yet. I mean, I used to have my weekly Bible Studies and Playgroups and kind of still do, but I'm waiting for the day where all three kids are gone at school. It takes twice the amount of energy to clean when they are home, especially my toddler.
I always pictured myself volunteering at Ronald McDonald House in Memphis during the school day or taking a continuing education class somewhere. I'm doing pretty well with writing reviews at Momma Findings. Dealing with Sponsors, PR Reps, Review Opportunities, Networks, and "marketing" it feels like a job.
So, lately it's changed a bit.. All I want to do, if all my children were in school is:
Clean, Sleep, or Blog– Three things I rarely get to do while they are home.
So, what about you Moms? What are three things you want or wish you could do without the kids? Are they as simple as mine? Has my brain literally turned into mush from being a SAHM that I can't seem to encourage myself to set a goal higher?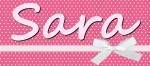 Sara Patterson has been blogging since 2007, but took a break for a couple years to tackle the world of news. She was the Social Media Director for a Houston based market 10 news station for over 2 years, but decided it was time to go back to her roots as a parenting blogger so she can spend more time with her family. She has now become an independent social media consultant for a variety of clients such as Hunger Free Texans and Downtown Galveston. Follow her personal Twitter account
@SocialNewsSara,
blogging account
@Family_Appeal
.
Latest posts by Sara Patterson (see all)