This is stinkin' hilarious! Am I the only one chuckling away at this commercial?!
It's pretty pitiful, but I was laughing my butt off when I first saw this commercial and found myself dropping what I was doing when I heard it on the T.V. the next day.
If you laugh and feel entertained by a man dressed up in a frog.. You might be a Momma.
Well, it just so happens I bought the Leapfrog Tag System for my Sweet Abby Girl and you'll be able to read my review on it over at Momma Findings in the next few weeks. She is turning 5 on Sunday and am so excited for her. It does seem like it was yesterday when she was hanging out with her stuffed pig (her lovey), playing with Fisher Price Little People, and dancing in her panties to Dora the Explorer.
Now, it's rockin' out with the Jonas Brothers, telling me about wedgies, and flippin' her hair back when she doesn't get her way. OH! And don't EVEN touch her "diary"! She writes songs in there!
*sigh*
Oh how they grow.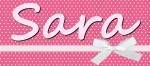 Sara Patterson has been blogging since 2007, but took a break for a couple years to tackle the world of news. She was the Social Media Director for a Houston based market 10 news station for over 2 years, but decided it was time to go back to her roots as a parenting blogger so she can spend more time with her family. She has now become an independent social media consultant for a variety of clients such as Hunger Free Texans and Downtown Galveston. Follow her personal Twitter account
@SocialNewsSara,
blogging account
@Family_Appeal
.
Latest posts by Sara Patterson (see all)