It seems my bloggy schedule is kind of fuzzy since this ugly, nasty, cold hit me. So, I'm gonna catch up on a few things, may I?
Happy Birthday MOM!!!!!!!
Yes, today is my sweet Momma's Birthday. She lives all the way in the great state of Texas and I live all the way in the Queen City of Charlotte, NC. So… as I'm wishing I was there to celebrate her Birthday, I am instead nursing this headcold, thinking what I'm gonna cook for dinner, and contemplating breaking out the Guitar Praise.
No seriously, though. I've been missing my Momma quite a bit lately. I'm especially excited because my parents will be visiting in a few weeks and she can finally see my new home (which I'm going to move OUT of in November, but that's okay). A few days ago, I got the great idea of making a pot of beans. The reason? So it could smell like my Mom's House in here.
Happy Birthday Mom, I love you, I miss you, and I can't wait to see you!
Spooky Giveaways

at
Momma Findings
Some of you might know that I run a small little Blog called Momma Findings. I am pretty excited about this coming week due to the fact that it's got a Spooky theme. I've got some really great giveaways that include LED technology. Enticed? Check it out starting Monday, September 29th. While you're thinking about it, grab my Spooky Giveaway button and add it to your sidebar. I even made it easy for you by including the HTML code. I'm all about convenience. It'll be one last thing you have to do in the extra credit category of each contest. Hope to see you there!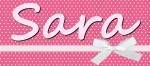 Sara Patterson has been blogging since 2007, but took a break for a couple years to tackle the world of news. She was the Social Media Director for a Houston based market 10 news station for over 2 years, but decided it was time to go back to her roots as a parenting blogger so she can spend more time with her family. She has now become an independent social media consultant for a variety of clients such as Hunger Free Texans and Downtown Galveston. Follow her personal Twitter account
@SocialNewsSara,
blogging account
@Family_Appeal
.
Latest posts by Sara Patterson (see all)