My 4 year old daughter is something else. I never knew her personality and taste would be so defined at this age. From glitter belts to "fashion" hats, my Abby girl seems to know what's in and what's not. It must be from playing dress up with her Polly Pockets all day long.
But what do you do when her "fashion" is a mixture of glitter belts, rain boots, a rainbow shirt, and velvet headband? Okay, Okay, it doesn't get THAT bad around here, but where do you draw the line with your daughter's wardrobe? How do you help her embrace her own creative style and individual expression without sending the wrong message to teachers who might think I just don't care when I send her off to school? Well, The Parent Bloggers Network is talking about this very subject this week and it got me thinking about all the times I've dealt with funky outfits.
I've tried my hardest to embrace the creativity that defines "Abby" such as: singing, drawing, and decorating her room so it was difficult for me when I encountered a wardrobe snag last week with my daughter. I laid out an adorable Hello Kitty skirt set, complete with a hair bow to match. I seemed to forget the socks or tights and left her to grab some so I can finish packing lunch boxes. When she walked into the kitchen she points her leg out and says, "Ta Da!!"
*Bites Tongue*
"Uh… Honey? Pink Striped Cinderella Socks??" I quickly asked her to get a white pair and explained that she needed to match a little bit better. What did my fashionista say?
"But MOM!!! I'm Fashion!!!"
For once, I decided to let it go. I mean, the boy across the street sports a Mo-Hawk and choker necklace to Kindergarten everyday. I can bare sending her ONE day with big bright socks. Right? It's a battle I decided to let go and I'm glad I did because she was so happy and excited to know that she made the decision, she has a voice when it comes to her clothing, and she will have her Mommas support through it all.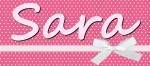 Sara Patterson has been blogging since 2007, but took a break for a couple years to tackle the world of news. She was the Social Media Director for a Houston based market 10 news station for over 2 years, but decided it was time to go back to her roots as a parenting blogger so she can spend more time with her family. She has now become an independent social media consultant for a variety of clients such as Hunger Free Texans and Downtown Galveston. Follow her personal Twitter account
@SocialNewsSara,
blogging account
@Family_Appeal
.
Latest posts by Sara Patterson (see all)