According to Yahoo News:
Texas is home to 26 refineries that account for one-fourth of U.S. refining capacity, and most are clustered along the Gulf Coast in such places as Houston, Port Arthur and Corpus Christi. Exxon Mobil Corp.'s plant in Baytown, outside Houston, is the nation's largest refinery. Dow Chemical has a huge operation just north of Corpus Christi.
You see that city highlighted in red?!
Baytown.
It's where most of my loved ones live. I'm praying for safety, but since it's forecasted to cause a lot of damage I'm praying for more than that. This is the city I grew up in. Where most of my memories lie. Where I met my loving husband. Where my son was born. It's my heritage in a nutshell and although most there aren't THAT concerned… I am. Maybe it's because I'm all the way over here in North Carolina and feel helpless.
With a prior Prayer Request for Hurricane Gustav, a good bloggy friend of mine told me:
GOD IS BIGGER THAN THIS STORM
I sincerely believe He is in control.
In addition to this Prayer Request, I have another VERY important one. There is a really sweet Momma named Brandi that lives in Baytown who is battling against Colon Cancer. She had 15 inches of her colon removed, but the Dr. has found a spot on her liver. This, in itself, is hard, but here is the most significant part of this request… she is only 28 years old and 10 weeks pregnant. This is one strong and beautiful woman to weather this hurricane blowing in, health issues, pregnancy, all the while tending to her husband and child. I'm lifting her up to the Lord for healing and I'd like for any or all of you to do the same.
I don't have a picture of her, but hoping to get one soon to post.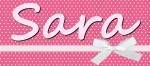 Sara Patterson has been blogging since 2007, but took a break for a couple years to tackle the world of news. She was the Social Media Director for a Houston based market 10 news station for over 2 years, but decided it was time to go back to her roots as a parenting blogger so she can spend more time with her family. She has now become an independent social media consultant for a variety of clients such as Hunger Free Texans and Downtown Galveston. Follow her personal Twitter account
@SocialNewsSara,
blogging account
@Family_Appeal
.
Latest posts by Sara Patterson (see all)