It's no surprise that Rudy, my toddler, and I have had our issues for the first 18 months of his life. He definitely needs more attention from me than my other two ever did. And I definitely need more energy to give that attention.
We had so many "incidents" lately with his "No Fear" kind of attitude that it's made me a little bitter and exhausted from it all. To remind myself that "this too shall pass" and that I DO love him with all my heart I thought of 7 things I love about you, Rudy:
1.) How you laugh when we dance in the kitchen together.
2.) That you always take your snack wrapper to the trash when you're done.
3.) How you think you're playing your own Nintendo DS with Zach and Abby, but it's really just the old Leapster.
4.) How you run to Daddy with hugs EVERY time he walks into a room..no matter how long it's been since you saw him last.
5.) How you take up for Abby when Zach is doing mean brother stuff.
6.) How you are attached to your blankie.
*Singing Voice*
And the 7th thing I like the most that you do, OH! You make me love you!!
Yes, if a song just popped in your head it's because my post sounds a lot like Miley Cyrus' song The 7 Things I Like About You. Yes, I am cheesy that way!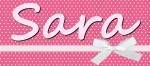 Sara Patterson has been blogging since 2007, but took a break for a couple years to tackle the world of news. She was the Social Media Director for a Houston based market 10 news station for over 2 years, but decided it was time to go back to her roots as a parenting blogger so she can spend more time with her family. She has now become an independent social media consultant for a variety of clients such as Hunger Free Texans and Downtown Galveston. Follow her personal Twitter account
@SocialNewsSara,
blogging account
@Family_Appeal
.
Latest posts by Sara Patterson (see all)