Tell me you've heard the news!!? Senator John McCain chooses Alaska Gov. Sarah Palin to be his running mate!
It was a normal afternoon here at home. I woke up from a morning nap with my 18 month old and BAM! The news was on CNN! Can you believe this?
She's got the grit, integrity, good sense and fierce devotion to the common good that is exactly what we need in Washington today," McCain said.
As of now, I have no words. None. I'm excited… for one because well… Her name is Sarah. How great of a name is that? Second of all, she seems like a regular Mom like me. Hmm.
After reading on CNN's website, She will be the first woman to be nominated for vice president as a Republican and only the second to run for vice president on a major party ticket, after Democrat Geraldine Ferraro in 1984. Nevertheless, she is under investigation for her firing of a state official, Public Safety Commissioner Walt Monegan. She has been instructed to hand over documents and recordings of telephone conversations as part of the probe, which grew out of allegations she sacked Monegan for refusing to fire her former brother-in-law from the state police.
This election is getting PURRRRDY interesting. Wouldn't you say so?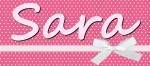 Sara Patterson has been blogging since 2007, but took a break for a couple years to tackle the world of news. She was the Social Media Director for a Houston based market 10 news station for over 2 years, but decided it was time to go back to her roots as a parenting blogger so she can spend more time with her family. She has now become an independent social media consultant for a variety of clients such as Hunger Free Texans and Downtown Galveston. Follow her personal Twitter account
@SocialNewsSara,
blogging account
@Family_Appeal
.
Latest posts by Sara Patterson (see all)