I'm lovin' school right now because the kids have been coming home using more manners than they EVER did over the Summer. The Please and Thank You's from them sound PURDY nice when all I hear all day, is the grunts and cries of an 18 month old. I had to share a little conversation Zach and I had when he arrived back home:
Zach: I'm thirsty, Mom.
Me: Okay, hun. Do you want some Kool-Aid?
Zach: Yes, Mam!
Me: I love it when you use your manners!
Zach: You know why I said Yes Mam right, Mom?
Me: Because you love and respect me?
Zach: No, because my throat is really dry and I need a drink now.
Yes, Mam! So, the intention behind the action isn't quite right, but I think I'll let it slip.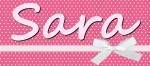 Sara Patterson has been blogging since 2007, but took a break for a couple years to tackle the world of news. She was the Social Media Director for a Houston based market 10 news station for over 2 years, but decided it was time to go back to her roots as a parenting blogger so she can spend more time with her family. She has now become an independent social media consultant for a variety of clients such as Hunger Free Texans and Downtown Galveston. Follow her personal Twitter account
@SocialNewsSara,
blogging account
@Family_Appeal
.
Latest posts by Sara Patterson (see all)