His Grace Is Enough Today tagged me, You're so fun!
Six Random things about Me and My Sippy Cup Life:
1.) I have some horrible habits. Yup, you read that right. I bite my nails, I pop my knuckles, and I drink WAY too much diet coke. Yeah, I don't ever drink water unless you count all the water that goes into my coffee pot each morning. I won't apologize for any of 'em either. I like my habits. No lectures please.
2.) I yell. I try not to, but if I'm hacked off… I yell. I remember Jean Stockdale telling us Mommas that if we are a "yeller" there is one simple step to fix it. Wanna know that step? It's pretty easy. JUST STOP IT! It's that simple, just stop it. I need to take that advice and really work on this. I honestly hate that about myself.
3.) I am really weird about the microwave and the alarm clock. Seriously. I can only set my alarm for odd numbers like: 6:41, 5:59, 7:03. The microwave times go something like: 43 seconds, 1 min 29 secs, etc. I don't know why, but that is one quirk that I am unable to explain.
4.) This is going to be TMI, but I'm also a vomiter. There are soo many things that make me queasy. When I was pregnant I had morning sickness every morning, afternoon, and night for close to the entire pregnancy, all three of them. Roller Coasters, Merry Go Rounds (although you can't find those at ANY park this day and age), and long car rides in small compact vehicles make me sicker than a dog. I'm just one sick Momma, what can I say? The funny thing is Hubby's good friend offered to drive us to Memphis when we move back. Hubby will drive the moving truck, while pulling our van and I will ride in his SMALL COMPACT car. He's in for a surprise.
5.) I was not blessed with the ability to sing. I can't carry a tune to save my life. A few people at my old church tried to recruit me for choir and when I told them I couldn't sing they said, "Oh, that's okay hun. You don't have to sing well if you have a joyous voice." Ummm… You don't understand. If you've ever seen the movie My Best Friend's Wedding, there is a scene where Camaren Diaz sings at a Karaoke bar and just sounds HORRIBLE. Yeah. That's me.
6.) The last thing I would say is I'm not perfect. I have a hard time keeping the house spotless, all the dishes clean, the laundry done, and the kids happy, but I try. And you want to know the one person that sees that? Brian. He has always told me to rest when I want. Cook when I want. Have fun when I want. The only thing he asks of me is to keep Lucky Charms and Zebra Cakes on hand. Always. That's really hard with three little ones wanting to eat 'em all up in a day.
Better start running bloggy friends! Tag, you're it!
Nothin' But Purple
Nunc Scio Quit Sit Amor
Living the Life!
A Daily Dose of Toni
And So We Laugh
Not On My Own Strength
Here are the rules:
1. Link to the person who tagged you.
2. Post the rules on your blog.
3. Write six random things about yourself.
4. Tag six people at the end of your post.
5. Let each person know that they have been tagged by leaving a comment on their blog.
6. Let the person who tagged you know your entry is up.
And of course, this is just fun. If you don't have time or just don't want to-no pressure 🙂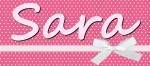 Sara Patterson has been blogging since 2007, but took a break for a couple years to tackle the world of news. She was the Social Media Director for a Houston based market 10 news station for over 2 years, but decided it was time to go back to her roots as a parenting blogger so she can spend more time with her family. She has now become an independent social media consultant for a variety of clients such as Hunger Free Texans and Downtown Galveston. Follow her personal Twitter account
@SocialNewsSara,
blogging account
@Family_Appeal
.
Latest posts by Sara Patterson (see all)