If you're really close to me, you know the struggles my husband and I have overcome the last 10 months. Well, the last few days we feel like God is pushing us to do something else. We feel like the Lord is preparing us for something big. No, not even big, HUGE. No, not even huge, ENORMOUS!
I was on the phone the other day with a really great friend of mine and telling her that I'm just tired. I'm aggravated. I'm a little scared and a LOT worried. You know what she told me?
"But aren't you excited? Aren't you excited to feel God has something big for you and can't you anticipate the reward? Can you feel it Sara?"

In fact, the last time I felt this exact way was when we moved from Memphis to Charlotte. All my friends kept telling me the same thing. Something BIG is about to happen.
Little did I know, it was God's makeover for our marriage.
This time, I feel scared, but it's a good scared. I feel weak, but feel God's strength. I feel nervous, but my palms aren't sweating. It's hard to explain, girls. I just feel Him, His presence.
I recently received a wonderful Good Mail gift from a sweet, sweet, gal Jen. I ripped open the package, because I just ADORE Good Mail and in it was this:
WOW. The gift itself is great, but the words in the card were amazing. I told my husband last night, "As I read that card, I felt like God was speaking to me directly. Those words were from Him!"
It sounds dumb, but I feel like I've been running a marathon for 10 months now and I'm JUST NOW reaching the pack ahead of me. I'm JUST NOW inching from last place. I remember hearing a sermon a few years ago where the Pastor gave three ways to train for God's race (don't ask me how I remember this because I don't have the notes):
Get Rid of Distractions
Get Back to the Cross
Get on with the Race
Fifty years from now, I want to be able to say, "I have fought a good fight, I have finished the race, and I have remained faithful." 2 Timothy 4:8 I feel like God is blessing my family with these big changes because both Brian and I have stayed faithful. We remained strong together.
That, my friend, is what is making me feel so blessed that He's my Savior, so eager to follow Him, and so humble to accept His Grace.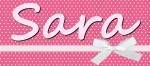 Sara Patterson has been blogging since 2007, but took a break for a couple years to tackle the world of news. She was the Social Media Director for a Houston based market 10 news station for over 2 years, but decided it was time to go back to her roots as a parenting blogger so she can spend more time with her family. She has now become an independent social media consultant for a variety of clients such as Hunger Free Texans and Downtown Galveston. Follow her personal Twitter account
@SocialNewsSara,
blogging account
@Family_Appeal
.
Latest posts by Sara Patterson (see all)