…….. of these guys who have left me alone for 20 minutes and counting! It's given me time to catch up on graphics and banners (none of which I know anything about, but I am slowly learning):

Although, I LOVE writing on my both my blogs I am making a commitment in front of EVERYONE on this day, August 2, 2008. I need to give myself to my husband, my children, and the Lord on weekends! YES! My Blogs seem to have taken me captive and there is no way besides throwing my computer out the window that I can break free. Unless……….. I commit to you, my fellow bloggers, that I will not be blogging on Saturdays and ESPECIALLY Sundays.
My Sippy Cup Runneth Over has grown in readership and I've enjoyed meeting new friends and learning more about msyelf each time I type an entry, but I've gotta say Momma Findings is not too far behind with it's rating.
I've got exciting Blog Tours arriving in my inbox, Book Reviews, and LOTS of up and coming Giveaways/Contests you guys are going to love. So, do me a favor, in the next few days bookmark Momma Findings and check back for some Fun Products and LOTS of Freebies! This is soo exciting for me, you have NO idea!
Speaking of Giveaways, don't forget to enter my Starbucks Giveaway. It ends tonight at Midnight!
One last thing, I have jumped into the Twitter Business. I just felt so left out. I mean.. "All the OTHER bloggers are doing it!" So, feel free to follow me and I'll follow you! I'm right there on the sidebar girlies!
Happy Weekend!
(BTW, my commitment starts NEXT weekend. Hubs is working late this weekend so what else am I going to do when the kids go to sleep?)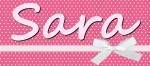 Sara Patterson has been blogging since 2007, but took a break for a couple years to tackle the world of news. She was the Social Media Director for a Houston based market 10 news station for over 2 years, but decided it was time to go back to her roots as a parenting blogger so she can spend more time with her family. She has now become an independent social media consultant for a variety of clients such as Hunger Free Texans and Downtown Galveston. Follow her personal Twitter account
@SocialNewsSara,
blogging account
@Family_Appeal
.
Latest posts by Sara Patterson (see all)