That's right.
We had THE stomach bug from HELL!
It only lasted about 24 hours for Hubs and the boys, but Abby and I had it for about a day and a half. It was very comical really…
We wake up at the hotel with Hubs and he says he has an upset stomach. Now, for me, that means he ate something he shouldn't have last night, because he gets a LOT of upset stomachs, but he NEVER gets sick. We make the trek back home and he is just miserable. It doesn't help that Rudy is screaming up a storm in the back seat and all I can do is throw fruit snacks and juice cups at him sing sweet lullaby's from the drivers seat.
After it was all said and done, Hubs was feeling better after only a day. YAY! We can go back to normal life!
So, I thought.
Abby and I enjoy a NICE, COOL, glass of chocolate milk before bed and then I hear this:
"Mommy, my tummy doesn't feel good."
I'm with you sista, lets go to bed. Little did I know that my sweet Abby Girl and I would be up ALL night vomiting. BLAH! The comical part is, first thing in the morning Zach walks in vomiting too. I had to run him to the bathroom. Five minutes later… yup.. you guessed it…. Rudy is vomiting in his crib. We were all sick puppies. I was all, "Woe is me. My whole family is a big puking mess." Except for Daddy.
He helped us the first part of the day leaving to buy us Gatorade and Pediapops, but my heart broke when I walked out of the bathroom to see him in his business attire.
He had to go to work.
Now, I know what you gals are thinking, "HOW COULD HE!??" How could he leave me home sick with three small SICK children, ALL under the ages of 6?
Well, he could. And he did.
I was too tired to feel the rage, so he walked out after putting the youngest down for a nap. The other two and I slept. In reality, it wasn't that bad and Hub's was home in no time… well JUST in time……. to watch Hannah Montana & Miley Cyrus Best of Both Worlds Concert with us! Hehehe!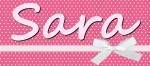 Sara Patterson has been blogging since 2007, but took a break for a couple years to tackle the world of news. She was the Social Media Director for a Houston based market 10 news station for over 2 years, but decided it was time to go back to her roots as a parenting blogger so she can spend more time with her family. She has now become an independent social media consultant for a variety of clients such as Hunger Free Texans and Downtown Galveston. Follow her personal Twitter account
@SocialNewsSara,
blogging account
@Family_Appeal
.
Latest posts by Sara Patterson (see all)