A while back, I went jogging. My favorite part of jogging around my old neighborhood was the small lake in front. If it was early morning I would see steam floating above the water and the sun shining perfectly above it. This scene was just breathtaking!
The morning after I was told we'd be moving to North Carolina I went for a LONG jog. I threw on my iPod and left before any child in the house opened their sweet little eyes. Jogging usually lets my anger and stress out. I don't have to throw things or hit things or cry… just "jog it out."
So, as I'm trucking along to Toby Mac the music stops and the next song begins. It went something like this:
My Goodness! My eyes became blurry, my lip quivered a little bit, and my mind really just died. My heart took over the rest of my thoughts and as I reached the lake….. BOOM! I fell! Seriously, it's like the ground just jumped out and tripped me! I laid there on the grass in front of the lake, just crying and asking God.. Why? Why do I have to move? Why, when my life is going so great, do you want to shake it? As the song continued it started raining. It was MY healing rain. It was MY Lord telling me that he will soak my dry heart. He was telling me not to be afraid, but to trust Him.
It was one of the most intense moments of my life and I hopped up as I saw my neighbors van drive toward me. I mean, how embarrassing if she saw me just laying on the ground crying like a baby! I couldn't help but laugh as I wobbled through the rest of my jog. Even still, I stopped in on another neighbor and told her what happened. What did she tell me after all that?
"You went jogging WITHOUT ME!!!!???" (I miss her, LOL)
I guess, I wanted to share this little story because I feel like I need one of the "intense moments" to shake me out of my every day life. I know, in my heart, I'm not putting God first. My Faith is dwindling and I keep telling Him I love Him, but how do I get back to the place where I was before? I'm not reading my Bible. I rarely pray anymore. Church has become secondary to us since moving here. I need a Shake Up!!
I'm not afraid to be washed in Heaven's Rain, let's see that forecast God!!!!!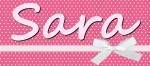 Sara Patterson has been blogging since 2007, but took a break for a couple years to tackle the world of news. She was the Social Media Director for a Houston based market 10 news station for over 2 years, but decided it was time to go back to her roots as a parenting blogger so she can spend more time with her family. She has now become an independent social media consultant for a variety of clients such as Hunger Free Texans and Downtown Galveston. Follow her personal Twitter account
@SocialNewsSara,
blogging account
@Family_Appeal
.
Latest posts by Sara Patterson (see all)